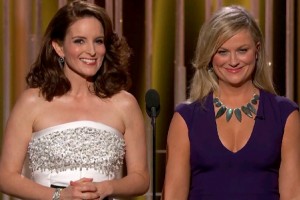 Tina Fey and Amy Poehler, in their third and final outing as hosts, were my main reason for watching, and they landed some good jokes, though the show seemed less funny this year than it had been in the past. The biggest laughs for me came when they played "Would you rather…"—asking each other which movie star they'd rather sleep with.
One choice was between Richard Linklater, the director of Boyhood, and Alejandro González Iñárritu, who directed Birdman. Poehler picked Iñárritu: "One take, two hours straight, no stopping." (This was how Birdman was shot.) Fey said, "Linklater—five minutes, once a year." (Boyhood was filmed only a few days every year for twelve years.)
When asked to pick between Colin Farrell or Colin Firth, Poehler said, "Farrell, all day!" while Fey said, "Firth, for a polite amount of time."
Regarding the awards, I predicted/agreed with most of the winners, especially Eddie Redmayne for best dramatic movie actor in The Theory of Everything, Julianne Moore for best dramatic movie actress in Still Alice, and J.K. Simmons for best supporting actor in Whiplash. I don't think you can see their performances in their respective movies and not be impressed.
I was underwhelmed by the batch of nominated best pictures this year—most are perfectly good ones but none made me say, "Wow!" Out of the choices, I'm OK with Boyhood winning best dramatic movie. Was surprised The Grand Budapest Hotel won for best comedy movie but I'm OK with that, too, since none of the other nominees rocked my boat, either.
You can see a full list of winners here.
Now, let's move on to the fashion, which is more fun to discuss, right?
As usual, Mr. PCN is my co-commentator for the night. Below are our thoughts.
Mr. PCN: Her dress is made of Elmo.
PCN: This is like butter—smooth and delicious. One of my two favorites of the evening.
PCN: She's going to be in the Birdman sequel—Birdwoman.
Mr. PCN: Fresh from The Little Mermaid spring collection.
PCN: Lupita! That is all.
PCN: The cape makes her look like Superstripper.
PCN: She said it took 30 people to make this dress. Why? And were they school children doing an entomology project?
PCN: This dress needs to be gone from her closet.
PCN: Very sparkly and sleek, and it makes me think she's about to transform into the T-1000.
PCN: What the heck is this??
Mr. PCN: Exactly!
Mr. PCN: Come on, ladyman, pick a team!
PCN: My other favorite look of the evening, besides Naomi Watts's. If the train didn't have wet spots from the rained-on carpet, this would've been flawless.
PCN: Sharpest-dressed man. Damn, that is one fine…tux.
PCN: Cutest couple.
Did you watch the show? What were the highlights for you? Whose looks did you like?
Photos: Williams, Nyong'o, Lopez, Moore, Danes, Bomer, Cumberbatch & Hunter/AP; Del Rey, Pike, Knightley, Wurst, Johnson/Getty Images