As I was perusing the opening passages of books I'll be reading over the next month or so, for myself and for Shelf Awareness, I thought it'd be fun to share them with you. We all like discovering new books and authors, right? Several of these are new to me, and in a couple of cases that's because the novels are the authors' first.
Here's the stack: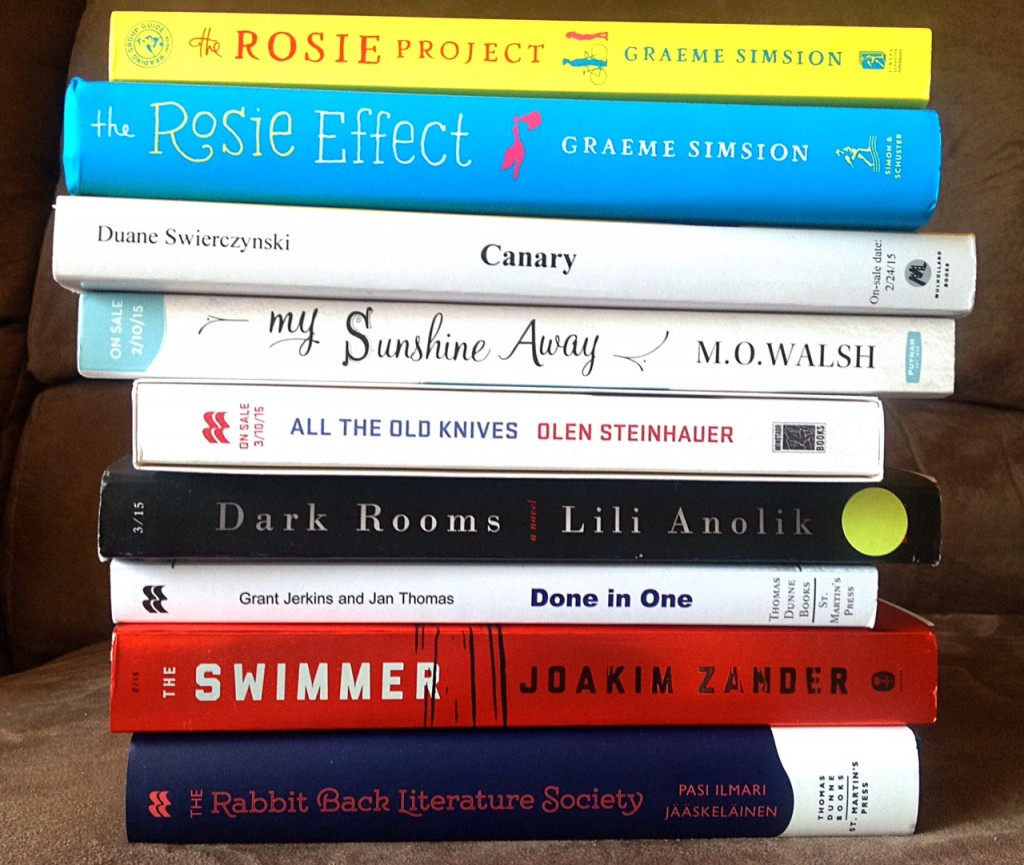 And the openings:
The Rosie Project by Graeme Simsion
I may have found a solution to the Wife Project. As with so many scientific breakthroughs, the answer was obvious in retrospect. But had it not been for a series of unscheduled events, it is unlikely I would've have discovered it.
The Rosie Effect by Graeme Simsion
Orange juice was not scheduled for Fridays. Although Rosie and I had abandoned the Standardized Meal System, resulting in an improvement in "spontaneity" at the expense of shopping time, food inventory, and wastage, we had agreed that each week should include three alcohol-free days. Without proper scheduling, this target proved difficult to achieve, as I had predicted. Rosie eventually saw the logic of my solution.
November 27

Hi, Mom. Last night I got arrested. (Sort of.)

I'm writing this so I can sort out the details, just like Dad taught me. He always said things have a weird way of making sense once you write them down. Putting this on physical paper (and not on the laptop) for a number of reasons:

1. These days you have to assume that anything you type on a computer or cell phone can be read by some random geek anywhere in the world

2. Nobody can ever see this, and I don't want some random geek trolling for revenge porn yanking it off my laptop

3. Paper burns
My Sunshine Away by M. O. Walsh
There were four suspects in the rape of Lindy Simpson, a crime that occurred directly on top of the sidewalk of Piney Creek Road, the same sidewalk our parents had once hopefully carved their initials into, years before, as residents of the first street in the Woodland Hills subdivision to have houses on each lot. It was a crime impossible in the daylight, when we neighborhood kids would have been tearing around in go-karts, coloring chalk figures on our driveways, or chasing snakes down into storm gutters. But, at night, the streets of Woodland Hills sat empty and quiet, except for the pleasure of frogs greeting the mosquitoes that rose in squadrons from the swamps behind our properties.
All the Old Knives by Olen Steinhauer
Henry

There's a delay taking off from San Francisco—caused, I'm guessing, by an overburdened airport, but no one will tell us for sure. At times like this, sitting stalled on the tarmac, it's easy to think apocalyptically—airports at the bursting point, highways clogged with SUVs helmed by citizens in meltdown, smog alerts and gridlocked emergency rooms, corridors lined with the bleeding. When you're in California this kind of vision explodes into grandiosity, and you imagine the earth ripping apart, spilling all this overconsumption, all the cell phones and seaside villas and hopeful young starlets noisily into the sea. It almost feels like a blessing.
The first time I saw Nica after she died was at Jamie Amory's Fourth of July party. I'd slipped into the study, dark and cool and strictly off-limits, was crossing the carpet to get to the liquor cabinet, when I felt someone behind me. I paused, flesh prickling. Slowly I began to turn. A set of doors, French. On the other side of the glass, a girl. I didn't run, didn't move, didn't even breathe, just stood there looking, looking, this girl so familiar: straight black hair, narrow nose, scarlet bloom of mouth, top lip nearly as fat as bottom. My skin recognized her before I did, rippling once then tightening on my bones.

My sister, Nica.
Done in One by Grant Jerkins and Jan Thomas
White. Nothing but white. Stretching to the horizon in every direction, infinite and limitless and as full of potential as an unpainted canvas or a child's soul—pure, clean, unsoiled. But that will change.
July 1980

Damascus, Syria

Every time I hold you is the last time I hold you. I've known that since the very first time. And when you came back, and I held our child in my sleepless arms, all I could think was, this is the last time.
The Rabbit Back Literature Society by Pasi Ilmari Jääskeläinen
The reader was at first surprised, then shocked, as the criminal Raskolnikov was abruptly slain in the middle of the street, right before her eyes. Sonya, the hooker with the heart of gold, shot him through the heart. It happened midway through an essay on the Dostoevsky classic.
See anything you like?
Since you've read this far, I'm happy to say that not only am I sharing these openings with you, I'd like to give you the chance to win two books from this stack: The Rosie Project and The Rosie Effect.
Project was an international bestseller and one of the best reviewed books of 2013, with its movie rights optioned by Sony Pictures. Effect is the just-released sequel. The first is a paperback copy and the latter will be hardcover.
To enter, leave a comment telling me what kind of effect you have on other people. As usual, fanciful answers and outright lies are encouraged.
Giveaway ends Tuesday, January 27, 9 p.m. PST. US residents only, per publisher's request.  Winner will be randomly selected and have 48 hours after notification to claim prize before an alternate winner is chosen.