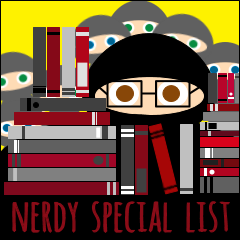 Spring has arrived, as has a deluge of new releases. The number of March and April titles I received increased dramatically from what came in for the first two months this year.
So let's jump right to the April reads my book blogger pals and I found outstanding:
From Jen at Jen's Book Thoughts:
The Anatomy of Violence: The Biological Roots of Crime by Adrian Raine (Pantheon Books, April 30)

This nonfiction account highlights Raine's investigation into the biological connections in violent behaviors. Through a multitude of studies, both his own and those of other scientists, Raine looks at the genetic connections, brain activity, and other biological elements that consistently differ in criminals such as murders, rapists, and physical abusers.

While readers, like me, may start to feel a sense of hopelessness in regards to violent crime, Raine does emphasize that biology is not destiny, and later sections of the book go into how to treat these issues. The author makes it clear that the biological aspects of crime are not yet fully understood, but links have been made, which is a significant advancement.

The Anatomy of Violence includes scientific jargon, but not to the point that the average reader will be overwhelmed. The examples Raine cites are both fascinating and horrifying. Crime readers who appreciate the nonfiction background of their stories will be engrossed, and crime writers will find fodder for fictional stories in these pages.
From Jenn at The Picky Girl:
Let's Explore Diabetes with Owls by David Sedaris (Little, Brown, April 23)

Get ready for a leaner, tamer David Sedaris in his latest collection of essays, but don't doubt the humor. For example, he describes airline travel wear: "It's as if the person next to you had been washing shoe polish off a pig, then suddenly threw down his sponge saying, 'Fuck this. I'm going to Los Angeles!'" Yet even with these laugh-out-loud moments, Sedaris manages to still land well-arced essays with a bit more wisdom than his last two books. Interspersed with short, ironic monologues from different perspectives, Let's Explore Diabetes is the bold, funny, and mildly offensive return to the Sedaris for which most have long waited.
From Julie at Girls Just Reading:
The Best of Us by Sarah Pekkanen (Washington Square Press, April 9)

Any of Sarah Pekkanen's books is a must-read, but if you've never heard of her, then The Best of Us is wonderful place to start. You can't really go wrong when the setting is a private villa in Jamaica.

Each character dealing with a crisis or issue will be like your best friend or sister. You will see a little bit of yourself in all of them, and at one time or another you will want to slap them silly. What makes Ms. Pekkanen one of my favorite writers is that all her situations and characters are identifiable. The Best of Us deals with real-life issues, and while a quick read, it isn't always an easy read.
From Rory at Fourth Street Review:
The Fever Tree by Jennifer McVeigh (Amy Einhorn/Putnam, April 4)

This story of London-born Frances's immigration to South Africa explores the topics of love, redemption, African colonialism, and Victorian society. It's epic in both geographic and emotional scope, and doesn't break new ground in historical fiction, but is an enjoyable, well-researched addition to the genre. The storytelling is very fine, the prose is elegant, and the novel's captivating. I highly recommend this debut. (See Rory's full review here.)
PCN's recommendation: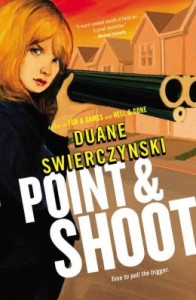 Point & Shoot by Duane Swierczynski (Mulholland Books, April 30)
Duane Swierczynski fans eager for the finale to the Charlie Hardie trilogy can now learn what happens to "Unkillable Chuck" without having to threaten to steal the author's laptop during mystery conventions. The relentlessly paced Point & Shoot is a wild and unpredictable conclusion, taking place in space and the Pacific Ocean and locations in between, as Charlie settles his score with the previously named Accident People (they now call themselves the Cabal). I didn't want to see these outrageous adventures end…and maybe I won't have to.
Buy it from Amazon | From an indie bookstore
Any of these look good to you? Which April titles are you looking forward to?