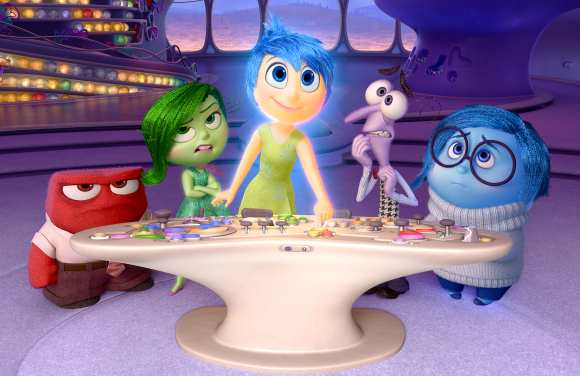 I'm going to start this review by saying if you haven't seen Inside Out and have any reservations about seeing it, thinking it's only for kids or girls or whatever, just throw those doubts out the window. This is the best movie I've seen so far this year.
The best way to experience it is without knowing too much about the plot so I'll be very brief: The movie is a trip inside the head of an 11-year-old girl named Riley who's trying to adapt to a major life change. Her emotions are Joy, Sadness, Fear, Disgust, and Anger, who take turns at a control board to guide Riley through life.
The voice cast is terrific, with Amy Poehler and Phyllis Smith being standouts as the dominant and seemingly at-odds Joy and Sadness. You'd think a character named Sadness would be a downer, but Smith, best known as Phyllis in the American The Office, made me laugh as much as she moved me. And the little blue character representing this emotion is adorable, reminding us Sadness is not always scary and sometimes is exactly who we need to sit beside us.
As with Riley, Joy and Sadness were my primary emotions during Inside Out. I laughed often and hard, and cried just as hard. Pete Docter and his codirector/cowriter Ronaldo Del Carmen have created a confection that looks like a dream but is firmly rooted in reality. Its psychological insight on childhood, parenthood, marriage, and life in general is spot-on and depicted in beautifully subtle ways. Repeated viewings are encouraged to catch all the smart jokes and little nuggets of wisdom. When the Oscar nominations come around next year, Inside Out deserves a place among the best-picture nominees, not only relegated to the animated-feature category.
Docter also had a hand in writing and/or directing Up, Wall*E, and the Toy Story movies, the best in the Pixar canon. From now on, when I see his name on a movie, I won't pass Go or collect $200 and will just head straight to the theater.
Nerd verdict: Moving and beautiful Inside Out
Image: Walt Disney Pictures