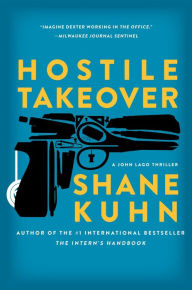 Shane Kuhn shot onto the crime fiction scene last year with The Intern's Handbook (movie rights were snapped up), and now his assassin John Lago is back in Hostile Takeover with more explosive action.
At the end of Handbook, Lago had lost track of Alice, the person assigned to "exterminate" him. He not only finds her at the start of Takeover but, after a wee bit of gunfire, proposes to her. The two then stage a coup to take over HR, Inc., the company that places fake interns who are really assassins into the corporate world to kill their targets. As with many relationships, their partnership is heady at first, until they start fighting and turn on each other. As Lago says, "With normal couples, someone might get thrown out of the house after a fight. With us, someone is liable to get thrown out a window." Or worse.
The violence in Takeover is even more over the top than in Handbook, but done in the same satirical way. A boy named Sue is a fun new character who gives Lago tech support–make that hack support. The identity of the big baddie is predictable, and some of the scenes seem more like set pieces rather than action that helps move the story forward, but Kuhn's sharp-as-a-blade humor keeps readers, like the bullets, flying through pages. And despite the deadly doings, Hostile is quite romantic, for Lago is hopelessly smitten with Alice, just a boy standing in front of a girl, asking her not to kill him.
This review originally appeared in Shelf Awareness for Readers and is republished here with permission.