We have a long weekend ahead! Hope you have fun plans for the Fourth of July, if you celebrate it. After a rough week, I hope to commence Operation Couch Potato.
This month, I'm very excited to welcome Shannon of River City Reading to the NSL. If you're not already reading her blog, definitely check it out. It's a fantastic site with smart, insightful reviews and lively bookish discussions. Shannon is also one of the bloggers heading up The Socratic Salon, which hosts in-depth conversations about books, spoilers and all.
Here are the July releases my fellow bloggers and I recommend. One of these is up for grabs.
From Jen at Jen's Book Thoughts:
Busy: How to Thrive in a World of Too Much by Tony Crabbe (Grand Central, July 7)

I don't know a single person in my life who couldn't benefit from the ideas expressed in business psychologist Tony Crabbe's nonfiction book, Busy. The Information Age has brought more opportunities, more demands, more of just about everything, including stress and feelings of inundation. But strategies for coping and succeeding have not changed.

Crabbe, who's worked with leaders of some of the most successful companies in the world, argues that concepts such as multitasking and time management are ineffectual. What people need to do is consciously choose to have a greater focus on fewer things. Crabbe offers research and anecdotes to support his ideas, but the greatest value of Busy lies in the activities and experiments that correlate with each of the book's chapters.

The activities encourage examinations of core values, personal brands, and more, while the experiments help readers  see the feasibility of the book's concepts. Busy is insightful, motivational, practical, and accessible. It's the starter kit to having a more fulfilling life with less.
From Erin at In Real Life:
Brush Back by Sara Paretsky (Putnam, July 28)

Brush Back is the seventeenth entry in Sara Paretsky's V.I. Warshawski series. Seven. Teen. That's an accomplishment in itself. That Sara Paretsky keeps telling stories that invite readers in and keep us flipping pages is a triumph.

When a high school sweetheart—after a fashion—shows up at V.I.'s office, she doesn't want to hear his plea. But hear it she does, and it sends her back to the neighborhood where she grew up, where she tangles first with a nasty old woman who hates her and might be a murderer. Before long, V.I.'s managed to piss off a bunch of powerful folks, but she can't stop looking for answers to the questions she's brought to light.

V.I. makes no excuses, but she  knows when she's pushed too far and she is not without humility. When her actions affect those she loves, she strives to put things right. But the forces she's battling are powerful, and the danger in Brush Back feels altogether too real.

On July 16, a couple of weeks before Brush Back is released, Sara Paretsky will receive the Outstanding Contribution to Crime Fiction Award at the Theakstons Old Peculier Crime Writing Festival in Harrogate, England. There can be nobody more deserving, as this latest novel demonstrates.
From Lauren at Malcolm Avenue Review:
Swerve by Vicki Pettersson (Gallery Books, July 7)

Kristine and her fiancé are on their way across the Nevada desert to his well-to-do family's Fourth of July celebration when Kristine is attacked in a rest-area bathroom. After returning to the car to find Daniel and most of their possessions missing, Kristine receives a text: Say good-bye. Now. Or he dies.

Thus begins a thrilling and gruesome 24-hour road trip scavenger hunt that means life or death for Daniel. Kristine is faced with horrific choices at each turn, knowing failure will mean the death of the man she loves. When the demands and clues from the madman who has Daniel become increasingly grotesque and personal, Kristine begins to realize the abduction may not be about Daniel's money at all, but about her.

Swerve is not for the fainthearted. A first-class thriller with the soul of a scary movie, you'll love it if you have a soft, grisly spot for movies like Joy Ride, Breakdown, and Duel. This was my first experience with the work of Vicki Pettersson, who's a well-known fantasy/romance writer. If she continues to write edge-of-your-seat white-knucklers like this one, I will continue to peek through my fingers to read them.
From Shannon at River City Reading:
Secessia by Kent Wascom (Grove Atlantic, July 7)

When New Orleans falls to the Union in the middle of 1862, twelve-year-old Joseph Woolsack's life is suddenly changed. His city is under the tightening grip of Union commander General Benjamin "the Beast" Butler while his father dies of mysterious circumstances, which leaves his mother, Elise, both questioning and questioned. A mixed-race woman passing as white, Elise's situation grows intense after the death of her husband, as she attempts to hold on to her son and her position in a rapidly evolving, violent city.

As in Kent Wascom's debut novel, The Blood of Heaven, which I loved, most everything in Secessia is grand. The novel's key characters are all larger than life, with big personalities that are just as easy to fall into as the grimy, dangerous streets of New Orleans.

But it's the way Wascom writes those characters and streets that sets his books apart. Though his words are as grandiose as the images they convey, each one is delicately placed to create a cadence that begs the reader to slow down and enjoy the ride.
From PCN:
Signal by Patrick Lee (Minotaur Books, July 7)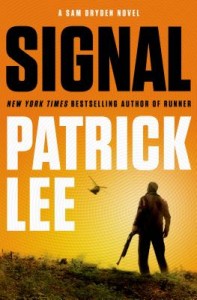 Last year Patrick Lee introduced us to his retired-special-forces hero, Sam Dryden, in the adrenaline-charged Runner. Dryden is back in another thriller that demands to be read in one sitting (I did just that—stayed up until 4:30 a.m. to finish.)
Dryden is again on the run, this time to protect a mysterious device that could destroy the world as we know it. Seriously, if it falls into bad guys' hands, things would get messed UP. Lee combines action with scientific elements and what-if scenarios to create a book that has muscles and brains.
My full review will run in Shelf Awareness for Readers later this month.
Here's the exciting part: I have one signed copy of Signal to give away. To enter, leave a comment telling me who would be chasing you if you were on the run. As usual, fanciful lies are accepted.
Giveaway ends Thursday, July 9, midnight PST. US addresses only. The winner will be randomly selected and have 48 hours after notification to claim the prize before an alternate winner is chosen.