Movie awards season is in full swing, so I've been attending multiple screenings a week. Last week I saw four movies, and this week will try to screen three. As much as I'd like to write detailed reviews, I can't keep up due to work and sleep. Plus, laziness. So I'll be posting shorter reviews of the movies I see in the next couple months, starting with these two.
Spectre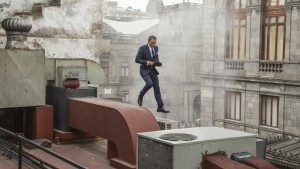 Director Sam Mendes's second James Bond outing and star Daniel Craig's fourth improved upon the last two films in the franchise to become my favorite with Craig after Casino Royale. I chose to know nothing about the plot before viewing, just plunked myself into a theater seat, and said, "All right, entertain me." And it did.
The opening sequence is usually among the most thrilling, and this one, set in Mexico City during Día de los Muertos, had me on the edge of my seat. The movie contains several other memorable set pieces involving helos, trains, boats, and fancy sports cars. The action isn't Michael Bay-ish, meaning it's not mindless destruction. There's often an emotional undercurrent to the most explosive scenes, because Bond is trying to save someone's life or exact revenge.
Craig is ultra cool, tearing across the screen with confidence. His leonine grace makes him equally suave in a tux and dangerous in a fight. This time out, he gets to play some of Bond's personal backstory, making 007 more accessible than usual.
Despite much press calling her a Bond woman, Monica Bellucci isn't the female lead. It's good to see her on screen, alluring as ever, but she has only one scene. Léa Seydoux is the true Bond girl, one who's believable as a doctor and doesn't turn into a screaming mess when things get rough. The actress's most effective features are her expressive eyes, which can go from steely to vulnerable and back again in .02 seconds.
Christoph Waltz is creepy as the villain, but we've witnessed this performance before. (See: Inglourious Basterds or any of his 93 other movies in which he plays a baddie.) Andrew Scott is also very good as a jerk; fans of BBC's Sherlock might recognize him as Moriarty.
Even as Mendes continues to move the franchise forward, he pays homage to past Bond films by including fun references to iconic elements such as a certain white kitty, the classic Aston Martin, and a hulking, hard-to-kill thug who calls to mind Richard Kiel's Jaws. As for Sam Smith's rendition of the title song, the only thing I can remember about it is thinking, "Wow, dude can sing high."
Nerd verdict: Satisfying Spectre
******
Brooklyn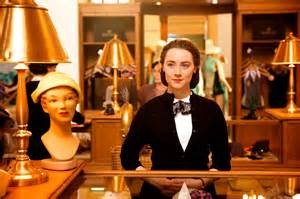 Saoirse Ronan stars as Eilis, an Irish lass in the 1950s who's sent to Brooklyn, NY, by her older sister due to a lack of career opportunities for young women in their hometown. With the help of a Catholic priest, Eilis gets a job in a high-end department store while going to school to study bookkeeping.
She also starts seeing an Italian boy named Tony and life looks good—until a sudden death calls her back to Ireland. While there, she meets another young man who makes her wonder whether her life belongs in her home country or across the ocean in America.
The story, from Colm Toibin's novel of the same name, sounds simple, but the movie is highly affecting (while containing more than a few laughs). Sobs were heard throughout in the audience, and some of them might've come from me.
During the post-movie Q&A, director John Crowley said he wanted the adaptation, penned by Nick Hornby, to be emotional but not sentimental, and he accomplished his goal. He had able help from Ronan, showing a much softer side than she had with past characters, and Emory Cohen as Tony, whose chemistry with Ronan is palpable and sweet.
The supporting cast, including Domhnall Gleeson as Jim, the third point in the love triangle; Julie Walters as a boardinghouse's den mother; and Jim Broadbent as the priest who watches over Eilis; is rock solid. The lush cinematography and period costumes made me nostalgic for a time when the world seemed more beautiful and less complicated.
Nerd verdict: Moving Brooklyn