Instead of a December list, I thought I'd post a list featuring outstanding books from any month this year, titles that weren't on previous lists because we didn't read them before pub date or whatever other reason. This isn't a best-of or top-ten list, just a roundup of additional 2015 books we found special. Maybe one or four will end up on your Christmas list!
From Jen's Book Thoughts:
The Bassoon King by Rainn Wilson (Dutton)

Actor Rainn Wilson's memoir is smart, funny, and inspirational. I listened to the audiobook, which Wilson narrates himself, and it will be my favorite audiobook of the year. He offers up an honest look at his rise to The Office fame, with all the bumps, bruises and laughs, including a stint playing the bassoon in his high school band.

Wilson is a wiz with words, crafting brilliant phrases like "drama geeks as the lions of the dork Serengeti." He also shares his views on his religion, Bahá'í, and of course has plenty to say about The Office. But you don't need to be a fan of the sitcom to appreciate this fantastic book.

If you're an audiobook fan, opt to listen to this one because Wilson's performance adds an extra layer of goodness to an already enjoyable read.

The Gates of Evangeline by Hester Young (Putnam)

This atmospheric debut novel follows a 38-year-old woman to Louisiana where she's writing a book about the prominent Deveau family and the still unsolved 30-year-old kidnapping of the youngest Deveau, Gabriel.

The novel contains a hint of mysticism and a wallop of great characters, all wrapped in themes of love, faith, and devotion. Hester Young creates a rich Southern Gothic setting in the old plantation on a Louisiana bayou, and the plot is masterfully constructed with red herrings and twists up to the very end.

An amazing first novel. I'm looking forward to more from this talented writer. (Read Jen's full review here.)
From Rory at Fourth Street Review:
The Shore by Sara Taylor (Hogarth)

The Shore is Sara Taylor's debut novel. Set just off the coast of Virginia, there are a group of small islands in the Chesapeake Bay known as "the Shore." Inhabited by rich and poor alike, the Shore is the place that binds everyone together.

The story is bleak, filled with abuse, addiction, and tragedy, but beautifully written. Although it's considered a novel, each chapter has the feel of a short story. The characters are complex and distinct, and they illustrate how you can love and hate the place you call home.

It's worth warning potential readers, especially based on the misleading cover, this novel is unremittingly harsh. It's grim, it's tough, it's unexpected, but it is so worth the effort to get through.

Bull Mountain by Brian Panowich (Putnam)

Allowing I didn't intentionally set out to recommend two debuts, I'm happy it worked out that way. Bull Mountain is Brian Panowich's brilliant first novel. Set in the backwoods of northern Georgia, this is southern grit-lit at its finest.

The novel tells the saga of the Burroughs family and its transition from selling moonshine to marijuana and eventually meth. It centers on brothers Halford and Clayton. Halford is the head of the Burroughs empire, while Clayton is the outcast and the sheriff of the county. The two form an uneasy truce that lasts until Special Agent Simon Holly arrives. After that, nothing is the same.

This novel is tense and deeply satisfying, truly a page turner (a phrase I never use, but it's apt here). If a sweeping southern tale of crime, vengeance, and loyalty sounds appealing, pick up this book immediately.

From Erin at In Real Life:
The Child Garden by Catriona McPherson (Midnight Ink)

With each of her novels, Catriona McPherson lays bare Scotland's dark underbelly, and long may she continue to do so (tourism board be damned!).

In The Child Garden, we meet Gloria Harkness, a good (no, really) woman who is doing the best she can in difficult circumstances. Her good nature leads her into the heart of a dark mystery, though, fraught with complications and evil presences.

Taking Pity by David Mark (Blue Rider Press)

Detective Sergeant Aector McAvoy is a good guy in the midst of a terrible run of events. His house is gone and his wife and daughter are in hiding. All he needs is…a good case. Or maybe not, but that's what he gets.

A rural murder in the picturesque English countryside is much more than it appears when McAvoy starts digging, and the result is a story worthy of the McBain comparisons it has drawn.
From Lauren at Malcolm Avenue Review:
Smaller and Smaller Circles by F.H. Batacan (Soho)

I was blown away by F.H. Batacan's brilliant Smaller and Smaller Circles, winner of multiple awards in the Philippines and published in the US for the first time in August.

The story is set in 1977 Manila, a city rife with poverty, corrupt officials, and lazy law enforcement. When the mutilated bodies of at-risk boys begin showing up in the dump, Jesuit priest and forensic anthropologist Gus Saenz is asked by the director of the National Bureau of Investigations to help with the case.

Father Gus, along with his former student and mentee Father Jerome Lucero, now a psychologist, throw themselves into the case with their hearts and heads. Of course, not everyone cares that boys on society's fringes are being victimized. Not everyone likes Father Gus and his meddling ways.

In Batacan's hands, these normal elements of crime fiction don't feel like retreads. Everything fits, the plot and characters are all drawn so well the whole feels very, very real indeed. I was amazed how quickly Father Gus and Father Jerome became a duo I was wholly invested in and would crave more from. Batacan let me know her characters in the most intimate way—by shining a light on their souls through their words and actions.

I loved feeling so powerless to avoid getting caught up in these characters and their plights. I highly recommend this one, which does include some difficult material, but handled appropriately and not for shock value. (Read Lauren's full review here.)
From Patti at Patti's Pen & Picks:
Ruined Abbey by Anne Emery (ECW Press)

This book takes place in 1989, during the Irish "Troubles." Several members of Father Brennan Burke's family end up in jail for various reasons. He and his siblings try to get to the main source of their problems, and figure out where everyone fits into the bigger picture.

Ruined Abbey is very interesting, partially because I didn't know anything about the time period in Ireland or Britain. Highly recommended.

Dead to Me by Mary McCoy (Disney-Hyperion)

I did not know this book was a young adult book when I started it, even though the main character is 16. Alice investigates the brutal beating of her older sister, who lies in a coma. The story and the noir atmosphere more than hold up as both a YA and adult mystery.

Goodreads calls it "L. A. Confidential for young adults." Highly recommended.
From PCN: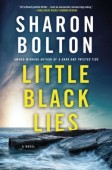 Little Black Lies by Sharon Bolton (Minotaur)
I'd been going through a bad reading slump when this book arrived and saved me. Many months after I read it, it still haunts me.
Set in the Falkland Islands, the story is told from three main points of view: Catrin, a mother still grieving the death of her two young sons; Rachel, Catrin's former best friend who may have been (accidentally) involved in the boys' deaths; and Callum, Catrin's ex-lover and ex-soldier in the Falklands War.
Little boys are going missing on the islands, and Catrin doesn't think the disappearances are unrelated. Delving into the mystery, though, only brings back devastating memories of her own lost boys. Her grief is raw and palpable when we see her internal life, but to others she can seem stoic and unsentimental so her sorrow isn't overwhelming.
Rachel and Callum struggle with their own demons, and the three characters collide in a climax that's almost O. Henry-ish. If you need a slump buster, you can't go wrong with this book.
And this concludes our final Nerdy Special List of the year. I'd like to thank all the smart, good-looking, well-dressed contributors for expanding my reading universe with their recommendations every month. Hope you all have enjoyed the lists as much as I have. (For previous NSLs, click here.)
Which books were special for you this year?