I'm baaack!
I'll wait until all 3 of you are done thinking, "Wait, she went somewhere?"
This past month was challenging because Mr. PCN had surgery, but he's well on his way to recovery so life has returned to a semblance of normalcy. Actually, normal might be stretching it, but at least I have some time now to sleep and blog.
First order of business is to post this month's Nerdy Special List. It may be a short month but there's no shortage of good reads. Below are the February releases my fellow bloggers and I recommend.
From Jen at Jen's Book Thoughts:
Incarceration Nations: A Journey to Justice in Prisons Around the World by Baz Dreisinger (Other Press, February 9)

Over the course of two years, John Jay College associate professor and Prison-to-College Pipeline founder Baz Dreisinger traveled around the world visiting prison facilities. She volunteered in workshops and taught writing classes everywhere from Rwanda to Australia, in order to examine innovated programs the various countries were implementing to reduce recidivism, improve rehabilitation efforts, and aid reentry.

Dreisinger combines her experiences with research, data, and history on incarceration to present an eye-opening—and compassionate—look at a global issue. Her optimism and zeal make Incarceration Nations not only a fascinating read but the inspirational journal of "characters" one that audiences won't want to leave.

Listen to the Lambs by Daniel Black (St. Martin's Press, February 16)

Lazarus Love III gives up his affluent upper-middle class life when he realizes his corporate job is slowly killing him. He despises the materialism and wishes to truly live. Lazarus finds the life he's looking for as a homeless man living under an overpass, sharing his existence with a small tribe of idiosyncratic vagabonds.

But his Utopian bubble pops when his life is threatened, forcing this newfound family to band together and rise above its cultural invisibility in order to try to save Lazarus. Allegorical, symbolic, and richly layered, this novel about race, class, family, and redemption is stunningly written and powerfully delivered.
From Lauren at Malcolm Avenue Review:
Floodgate by Johnny Shaw (Thomas and Mercer, February 16)

Auction City has a violent history. In the Gang Wars of 1929 (the Flood), warring factions came close to destroying it altogether, until representatives from each group formed a vigilante force called Floodgate to quell the violence.

In 1986, former cop Andy Destra is waging a war against the corrupt department that blacklisted him. Little does he know he's stirring up a hornet's nest, the likes of which hasn't been seen since 1929, and Floodgate will once again need to rise to the challenge of saving the city.

Johnny Shaw's genius shines most brightly in his humor and family relationships. That said, this epic and mythological work is much different from Shaw's prior offerings. Alternating between the Flood of 1929 and the ultra-violent yet madcap conflict of 1986, Floodgate is grander in scope and themes, and almost impossible to synopsize. But the cast of characters, which includes a giant, bald, Bible-wielding, soup-can-chucking black woman; a one-armed female leader of a gang (there are tons of kickass women characters); sewer-dwelling cannibals; a literate troll; and countless other intriguing ones should be teaser enough to get you to crack the cover on this one.
From Patti at Patti's Pen & Picks:
The Language of Secrets by Ausma Zehanat Khan (Minotaur, February 2)

The first in this series, The Unquiet Dead, was very well written, and The Language of Secrets is as well, with a lot of excitement thrown it. Detective Esa Khattak, a Muslim who runs the Community Policing Department in Toronto, is called to work on a case that involves a possible terrorist cell (or two), a mosque, and the death of a friend. His partner, Rachel Getty, goes undercover as a potential new member of the mosque. Esa is asked to work in a very minimal way on the murder investigation, and has his hands tied at every turn. How the murder is solved and a terrorist attack prevented come at a breakneck pace, all the way to the conclusion of this smart book. Highly recommended!
From PCN:
Back Blast by Mark Greaney (Berkley, February 16)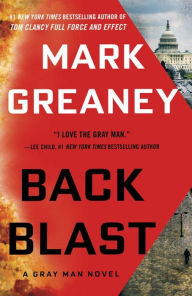 I had to interview Mark Greaney for Shelf Awareness but hadn't heard of him, so I picked up his latest thriller, which is number five in the Gray Man series. It's 528 pages long. "Dang," I thought. "This is a lot to read for research."
But from the first page, I was sucked in like dirt into a Hoover. The Gray Man—real name Court Gentry—is a former CIA black ops officer who's had a shoot-on-sight order against him for the past 5 years. Who put it there? The Agency. Why? He has no idea.
Tired of running all over the globe to evade the kill order, Gentry returns to DC to confront his opponents/former bosses. What ensues is a fast-paced adventure that shows why the CIA should be very, very afraid of the Gray Man, not the other way around. Think Jack Reacher with James Bond's toys and you get an idea of what Gentry can do. This is a thick book but it's, well, a blast.
What are you looking forward to reading this month?