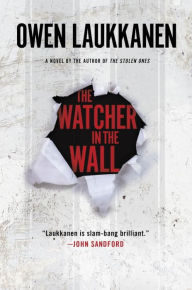 Adrian Miller, tired of being tormented at school, hangs himself while home alone. But there's a witness to his act—someone watching via videocam on his computer. Not just watching but encouraging him to do it, apparently so she could muster the courage to do the same.
One of Adrian's classmates is especially upset about his suicide, and she happens to be the daughter of Kirk Stevens, special agent with Minnesota's Bureau of Criminal Apprehension, whose partner on a joint FBI-BCA task force is FBI agent Carla Windermere. The girl pleads with her dad to investigate Adrian's death and make someone pay.
Stevens and Windermere aren't sure a crime has been committed—until they realize that they have an online predator on their hands, someone who targets vulnerable teens on suicide message boards and talks them right over the edge. And it looks like the perp has hooks in two more victims who are ready to jump. Can the agents find the kids in time to save them?
It's clear early on in Owen Laukkanen's The Watcher in the Wall that this fifth outing is a departure in the Stevens and Windermere series. Yes, it has the previous novels' high-octane action and thriller-fast pace, but the descriptions of the teens' inner lives feel raw and personal. As it turns out, it is—the author's note at the end reveals intimate knowledge of the subject matter, and offers hope to those struggling with depression. Watcher is a moving reminder for sufferers that they have a different kind of watchers in their lives—loved ones who can provide support and let them know they're not alone.
This review originally appeared in Shelf Awareness for Readers and is reprinted here with permission.