I featured this book in May's Nerdy Special List, but the full review below appeared in Shelf Awareness for Readers and is republished here with permission.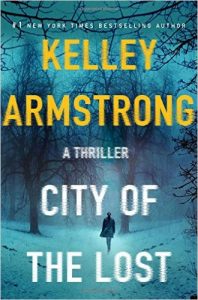 " 'I killed a man,' I say to my new therapist."
With this opening line in City of the Lost, Kelley Armstrong introduces homicide detective Casey Duncan. Casey makes clear her declaration is neither a metaphor, such as for breaking a man's heart—"A bullet does break a heart"—nor a statement about a job-related incident. Nope. She killed a man while in college. And got away with it.
The only person who knows and has kept her secret is her friend Diana, and now Diana needs Casey's help to escape from an abusive ex. Diana convinces Casey to relocate with her to a remote community called Rockton in the wilds of Canada. The residents there are all hiding from something; with no modern technology available—even electricity is limited—they can stay off the grid.
Casey soon realizes, however, that Rockton may be an even more dangerous place for her and Diana, because someone is murdering the inhabitants. As the town's new detective, Casey has to hunt down the killer, but this time she might end up as prey.
Casey is a singular, riveting protagonist–tough but loyal, knowing the difference between taking risks and being irresponsible. There's tantalizing romantic tension between her and Rockton's sheriff and his deputy, though that element isn't the focus.
The mystery is complex, takes unusual turns, and the setting of isolated territory surrounded by menacing woods is as breathtaking as it is unsettling. Looking for a captivating story? Escape to City of the Lost.
*****
Have a safe holiday weekend, everyone. What are you planning to read over the next three days?