Every month I think the list is the best one ever, and May is no different. We read lots and lots of books, and only our top faves make the cut.
Here are the new releases we recommend.
From Jen at Jen's Book Thoughts:
Britt-Marie Was Here by Fredrik Backman (Atria, May 3)

Fredrik Backman earns a hat trick with his third novel, Britt-Marie Was Here. This witty, heartwarming, all-around charming novel features sixtysomething, recently separated Britt-Marie. Those familiar with My Grandmother Asked Me to Tell You She's Sorry will recognize the character from Elsa's apartment complex, but that's the only connection to Backman's second book.

Britt-Marie takes place in a rundown town hit hard by the economic crash, and Britt-Marie is there to fill the position of recreation center caretaker. In the short time of her employment, the persnickety woman worms her way into the hearts of the town's remaining citizens, especially a rag-tag bunch of kids making up the soccer team.

Like Backman's two books before this, Britt-Marie Was Here induces laughter, tears, and enlightenment. His clever humor and profound yet simple insights about life will find their ways into readers' hearts and souls. Britt-Marie has to learn to look at the world differently in this novel, and as Backman helps her to do that, he helps his audience to do the same. Stunningly brilliant! [Ed. note: Jen will be interviewing Backman at Anderson's Bookshop Naperville on May 12!]

The Second Life of Nick Mason by Steve Hamilton (Putnam, May 17)

Steve Hamilton breaks from his Alex McKnight series and introduces Nick Mason. Mason was in prison for murdering a federal agent, but Darius Cole, a Chicago crime boss—and fellow inmate—makes Mason's conviction go away. He's free and clear, no probation, no record, nothing…except the deal he made with Cole to achieve his liberation.

Mason must work for Cole for the 20 years that were remaining on his prison sentence. Mason believes this deal is worth the trade in order to be able to see his daughter again. However, Mason may have been mistaken.

Hamilton kicks off his new series with an intense and exciting story. It's a fresh concept in an increasingly crowded genre. Sharp dialogue, flashy cars, fascinating characters…and a dog! I'm looking forward to seeing where this series goes.
From Rory at Fourth Street Review:
The Atomic Weight of Love by Elizabeth J. Church (Algonquin, May 3)

Meridian Wallace is a brilliant student studying to be an ornithologist when she meets a physics professor and falls in love. Early in their relationship, he moves to the remote southwest to work on a top secret project.

Putting her dreams on hold, she follows him and takes on the traditional role of wife, not scientist. As she feels her dreams slipping away and finds herself fading into the background, she meets a young hippie Vietnam veteran who changes her life.

Spanning decades, The Atomic Weight of Love is the tale of one woman's both ordinary and extraordinary life. From atomic bombs to a failing marriage to the lives of crows, Meridian's story is a pleasure to read.

Comparable to Elizabeth Gilbert's The Signature of All Things, Elizabeth J. Church's debut novel is a moving, science-minded tale of the roles women were relegated to in midcentury America, yet it doesn't get bogged down in it. It is an insightful, notable debut. I'm excited to see what the author does next.
From Erin at In Real Life:
Wilde Lake by Laura Lippman (William Morrow, May 3)

Secrets are powerful, perhaps never more so than when kept within a family. Truth is often a gray, fuzzy line. Sometimes we seek answers, but in the words of One of Those Songs from the 1980s, it's the questions we have wrong.

Like her father before her, Lu Brandt is the state's attorney of Howard County, Maryland. She lives in her childhood home and her roots in the community are deep. When she takes on the case of the murder of a waitress, she finds herself coming face to face with secrets from her own past that she had no idea existed.

I've long been a fan of Lippman's stories. Her latest is quite different from her series books, and has rightfully been called out among her best work. It is being heralded as character driven, and it certainly is, but I also enjoyed the maze-like plot.

If you've never read Lippman, this is a fine book to start with. If you have, it will not disappoint.
From Lauren at Malcolm Avenue Review:
Don't You Cry by Mary Kubica (MIRA, May 17)

Mary Kubica is quickly becoming one of my favorite multi-POV authors. This time, the reader is tossed between Quinn and Alex—Quinn an admittedly flawed twentysomething who wakes one morning in her Chicago apartment to find her beautiful, smart, church-going roommate Esther missing; Alex an 18-year-old living an hour away from Quinn in Michigan, working as a dishwasher and trying to keep his alcoholic father afloat.

When a mysterious stranger appears in the diner where Alex works, he falls hard and begins trying to find out who she is and what she's doing in his small, seemingly boring town. Kubica uses Quinn and Alex to wind around both mysteries and ultimately bring them together in a satisfying conclusion.

Kubica has a great knack for leading readers' judgment about her characters, only to turn those conclusions on their head. Despite knowing that, she gets me every time. Don't You Cry isn't perfect, but it's a fun, twisty ride.
From PCN:
City of the Lost by Kelley Armstrong (Minotaur, May 3)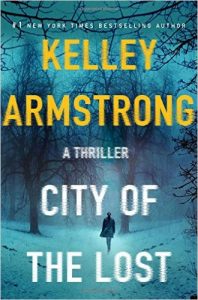 It's been almost four years since I found a book that made me stand in the hall in the middle of the night to finish reading, and City of the Lost had me doing that again. It is addictively good, more so than potato chips and you know I love potato chips.
Detective Casey Duncan admits right in the first sentence that she killed a man, and is quick to add it was neither an accident nor job related. And she got away with it.
Her friend Diana, the only person who knows Casey's secret, is not so tough. Diana is desperate to escape from a violent ex-husband who won't let her go. She persuades Casey to move with her to a remote town called Rockton in the wilds of Canada where people live off the grid because most of them are hiding from something or something.
Turns out Rockton isn't safe at all, because residents are being murdered. Cut off from resources and modern technology, Casey, aided only by the town's sheriff and his deputy, must try to stop the killing before they are terminated. Hopefully you'll get Lost in this book like I did.
Which May releases are you looking forward to?