If you're a long-time PCN reader, you're probably familiar with my niece Aline Dolinh, who has contributed reviews of books, movies, and even plays. Four years ago, she and her sister, Mena, reported on their experience at the National Book Festival, which is held every year in September in Washington, DC.
Last month, Aline returned to the book festival, but this time as an honored guest and speaker. Why? She was one of five poets selected for the National Student Poets Program, the highest honor in the country for young poets, one bestowed by the President's Committee on the Arts and the Humanities, the Institute of Museum and Library Services, and the Alliance for Young Artists & Writers.
Ah, yeah, that's Aline hanging out at the White House with the other honorees and Mrs. Obama, who's Honorary Chair of the President's Committee on the Arts and the Humanities.
Aline and the other National Student Poets were chosen from 80,000 poetry submissions, with a blind judging process over an 8-month period. The judges were apparently surprised to discover Aline's age after she won this top prize. At 15, she is the youngest poet ever chosen for the honor.
I am thrilled for Aline but not surprised. She's been impressing and entertaining me with her literary skills ever since she could read and write, sending me stories about cats that have pajama parties and write in diaries and bake cookies (complete with recipes), and writing screenplays about dinosaurs trying to beat extinction. She was 7 when she wrote stories with questions at the end to test my and Mr. PCN's reading comprehension.
National Student Poets will serve for one year, traveling to their designated regions, acting as "literary ambassadors to people across our country and around the world," as Mrs. Obama states in her letter at the front of the program from the announcement ceremony.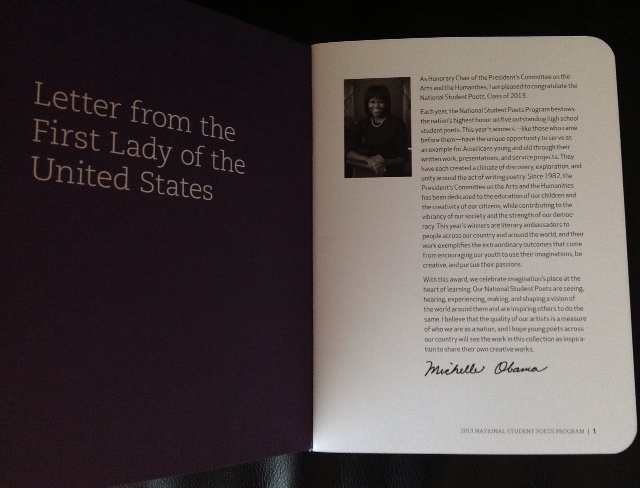 Aline is in high demand now, with requests for media interviews on top of her regular schoolwork. I was required to submit a request to the program's media rep before I could chat with my niece, and had to wait two weeks before Aline had time. Pretty soon, I'll have to call her "people" to have lunch with her.
PCN: What was your reaction when you were first notified about receiving this honor?
Aline Dolinh: At first, I didn't understand! I remember that being selected as a semifinalist was scary enough, since there was a chance I'd be disappointed, so the fact I had made it this far seemed unreal. But when I got the packet in the mail saying I'd won, I was walking on sunshine for a little bit. What this award meant didn't truly sink in until that weekend in DC.
PCN: For the weeks leading up to the official announcement of this year's winners, you weren't allowed to tell anyone you were one of the five. How hard was it to keep this secret?
AD: Oh my God, it was terrible. I will keep a secret if you ask me to, but I love to talk. Back around May, before I knew I had been chosen for this particular award, I had told some of my friends and family that I had entered a poetry contest. It was very hard to completely avoid that topic of conversation, and if anyone did remember it, I tried to be vague. It was especially painful when I came back to school and people asked me things like if I had done anything I was proud of this summer, and I couldn't say a thing!
PCN: Gah! I probably would've busted a blood vessel keeping a secret like that. What were your favorite part(s) of that weekend when all the ceremonies and galas happened?
AD: It sounds cliché, but my favorite thing was that I got to make such great friends. The four other poets are some of the most amazing, talented people I've ever met, but they were also so approachable and friendly. It was great to meet others who were equally passionate about their work, and I think we all clicked pretty quickly. I think we all felt like we were in the same boat. Additionally, the three student poets we met from last year, and just about everyone involved with the program was so welcoming and eager to guide us through the weekend. I got the sense that they genuinely cared about us, not just as poets, but as people.
PCN: What were your impressions of Mrs. Obama? Did you ask her how we can get arms like hers?
AD: She was absolutely gorgeous, toned, and super tall! If you look at the picture with us, you can see my head barely reaches her shoulder, which makes sense, I guess, since she's 11 inches taller than me. She was so gracious, and I got the sense that she really cared about this program. When it was my time to get pinned by her, she asked me about my perspective as a writer and she remembered my age. She actually said something like "You know, Malia's your age!" which was incredible. The fact that the First Lady took the time to talk personally with each of us was amazing.
PCN: Where do you think you got your love of reading and writing?
AD: Growing up, I was lucky enough to have parents who taught me to read and encouraged me to write. I also had good teachers over the years, teachers who recognized that I liked to write. I grew up with books around the house, resources a lot of kids don't have. That was lucky.
PCN: Your parents also like to take you to book festivals. In 2009, you and Mena wrote about the National Book Festival for me. If someone had told you then you'd come back in a few years as a special guest/speaker, what would you have thought?
AD: I probably would have been like, "You're lying, right?" I remember the first time I went to the festival, I waited two hours in the rain to get one of my Percy Jackson books signed by Rick Riordan, just because I loved those books so much (I still do). I was actually thinking about that during the night we were at the National Book Festival Gala at the Library of Congress, standing in the same room as writers I probably would have killed to get the chance to talk to [back then], because it felt so unreal that I'd made it here.
PCN: Ooh, you're so fancy now. If you ever rub shoulders with J.K. Rowling, I'll slip you a twenty to get her to sign some books for me. What do you look forward to most in your upcoming year as a NSP? What do you hope to achieve?
AD: Again, I'm so excited to be working with so many of the wonderful people who are part of this program, because everyone is so supportive, and there are a lot of people I can trust to help guide me down this road. But I think the greatest thing about this program is the chance for actual change within the community. I'm so eager to design my community service project, since bringing poetry out to people who might not have the chance to experience it otherwise would make such a big difference. Not everyone was lucky enough to grow up with the same support system I've had my whole life for my writing, and so being able to personally reach out and show people how much poetry has affected me is something I'm really looking forward to. I hope that, at the very least, I can make someone else fall in love with poetry the same way I have.
PCN: Can you share any details about this community project?
AD: I'm not sure what it is yet, but I'm interested in an outreach project, in spreading poetry to people who might not have access to it or be turned off by it, people who don't know what poetry can do for them.
PCN: Other than getting summoned to the White House to hang out with the First Lady of the United States, receiving opportunities to travel, and a $5,000 academic award—you know, little things like that—what has poetry done for you?
AD: Poetry encourages you to look at the world in a new way. In school terms, it's made me a better writer in general. It makes me appreciate ambiguity more, because there's a mystery to poetry.
PCN: Why is ambiguity something to be appreciated?
AD: It opens you up to the possibility of so many different perspectives in the world. You can have so many meanings in one poem. I like it that the reader might read one of my poems and go away with a different interpretation than what I intended. It's made me more open-minded.
Thank you, Aline, for taking time to answer my questions. You've made me more open-minded.
Aline's poems have been published in The Best Teen Writing of 2013 and Raw Feet, and you can read her winning poetry here. (My favorites are "immigrant" and "How to Love a Time Traveler.") Visit this site for more information on the National Student Poets Program (now accepting submissions!).
Congratulations, Aline!