Hope you all have been enjoying summer! People usually go somewhere around this time for vacation, and this year they are all coming to stay with me. I've been hosting family and friends, and though their visits create total cleaning panic, it's the only way I can be motivated to clean.
Before I go back to stuffing crap into closets scrubbing the kitchen sink, I present you with this month's reading recommendations. It's a varied list as usual; hope at least one selection sparks your interest!
From Jen at Jen's Book Thoughts:
The Promise of Jesse Woods by Chris Fabry (Tyndale House Publishers, July 1)

Chris Fabry's lyrical writing style makes this charming story of three young outcasts growing up in t1970s Dogwood, West Virginia, moving and memorable.

Matt Plumley is the new kid in town. Besides being the preacher's son, Matt is overweight. The first people he meets in Dogwood are Dickie Darrel Lee Hancock, a mixed-race boy, and Jesse Woods, a dirt-poor, fatherless tomboy. Matt's parents aren't so thrilled with his new friends, but Matt sees the best in them and finds acceptance in their eyes. The three-way friendship bonds the young teens until a fateful night in 1972.

The Promise of Jesse Woods is a beautiful novel with sharply drawn characters, rich in authenticity and passion. The atmosphere of the period echoes the beautiful simplicities as well as the ugly complexities. With the engrossing magic of exceptional storytelling, Fabry will envelop readers in a time gone by wrapped in themes that transcend time. Stunning.
From Rory at Fourth Street Review:
The Heavenly Table by Donald Ray Pollock (Doubleday, July 12)

Despite only having two published books, Donald Ray Pollock is one of my favorite contemporary authors. For over a year, I've been looking forward to the release of his new novel, The Heavenly Table. I was not disappointed, though I can't quite say that his sophomore novel is better than his debut (The Devil All the Time is in a league of its own).

Following the Jewett brothers—Cane, Cob, and Chimney—-Table takes place in 1917 southern Ohio. After the sudden death of their father, the three brothers become outlaws in the tradition of (the fictional) Bloody Bill Bucket. Before they know it, they are a legendary gang of thieves, rapists, and murderers with a huge bounty on their heads, though the legends are far more preposterous than their true crimes.

On the opposite end of the spectrum are Eula and Ellsworth Fiddler, a naïve farming couple barely scraping by. An assortment of other characters fill the novel, from outhouse inspector and manhood wrangler Jasper Cone to the Roman military enthusiast Lieutenant Bovard.

Both perverse and violent, this novel is not without humor and heart. It's absolutely filled to the brim with southern Gothic goodness; just don't expect any good. In Pollock's distinctive prose, the reader is taken for a wild, gritty ride that cannot be easily forgotten.
From Erin at In Real Life:
Revolver by Duane Swierzynski (Mulholland Books, July 19)

Duane Swierzynski never fails to surprise readers. His latest novel is his finest work to date, and is a story readers will be well advised to start without any preconceptions.

Revolver is an intricate police procedural involving the murder of two Philadelphia police officers 50 years ago. It is told in three time periods (1965, 1995, and 2015), and Swierzynski weaves these narratives together with beautiful and graceful skill.

The 1965 murders haunt the Walczak family across generations, and each contributes to the story as it unfolds. As much as the family is central to the story, though, this is a tale about Philadelphia, a love story (of sorts) to a city whose history is, in so many ways, part and parcel of the whole of the United States.

Revolver is populated with a range of fascinating characters, including Stan, one of the victims of the 1965 murder; his son Jimmy and Jimmy's siblings; and Stan's granddaughter, Audrey. They are as different as most family members are, and each is fascinating in his or her own right.

Revolver will absolutely be on my Best of 2016 list.
From Julie at Girls Just Reading:
The Perfect Neighbors by Sarah Pekkanen (Washington Square Press, July 5)

The Perfect Neighbors is a peek into the lives of those we live around and see daily but may not really know. It is about the facades we put on for the public vs. how we really are behind closed doors. It's about how we all have secrets that we might not want to share, things that are private in our heart of hearts.

We are introduced to four women—three close friends and one newcomer. Each has something they are hiding from the others mainly because they are ashamed of their behavior but don't know how to let go of it. What Pekkanen added to this was a mystery surrounding one of the couples.

I loved how Pekkanen kept you on the hook and laid out breadcrumbs for you to eat up. I liked how each storyline developes and is resolved. I have a been a huge fan of Pekkanen for years due to her realistic plots and ability to write characters we all can relate to.
From Lauren at Malcolm Avenue Review:
The Trap by Melanie Raabe (Grand Central, July 5)

Bestselling author Linda Conrads hasn't stepped outside her house in eleven years. Twelve years ago she discovered her sister stabbed to death, and her eyes met those of the murderer as he fled. When the investigation ultimately goes cold, Linda retreats from the world.

More than a decade later, Linda sees the man again on a television newscast. Determined to bring him to justice yet unable to leave home, she decides to lure the man into an elaborate trap she designs by writing a book mirroring her sister's murder. Linda hasn't given an interview in years, but she plans to break her silence and give one to the journalist she's certain killed her sister and who knows she saw him leave the scene.

Alternating between Linda's first-person narrative and the chapters of her book within the book,The Trap is a fun, engaging read that flows despite getting a bit bogged down by repetition in Linda's head as she obsesses over the murder and her plans to solve it. At times the story felt like a twisted game of cat-and-mouse, at others a game taking place only in the head of a really unstable cat.

Part of what made the book enjoyable was wondering who to believe and when, and despite one loose thread that nagged at me, Raabe brought the story to a satisfying conclusion.The Trap is an entertaining summer read with a unique premise that doesn't feel too heavy despite the subject matter.
From Patti at Patti's Pen & Picks:
Nine Women, One Dress by Jane L. Rosen (Doubleday, July 12)

The one dress is more a style of a dress, not one dress worn by nine women. This is not The Sisterhood of the Traveling Pants.

The book starts with a fashion show. A little black dress is featured and becomes the dress of the season. People shopping at Bloomingdale's enter and exit the book's stage, trying on the dress, purchasing it, returning it. The dress is perfect for some but not for others, and occasionally the book seems to ask: Which person deserves to wear this dress?

The book is also about the relationships the women have—with each other and the people they meet and let go—not just romantic partners but also friends and coworkers.

I loved this book, for the New York that exists in it, for the adventures people have in it, and for the endings. It's a perfect light book for summer. Enjoy!
From PCN:
The Woman in Cabin 10 by Ruth Ware (Gallery/Scout Press, July 19)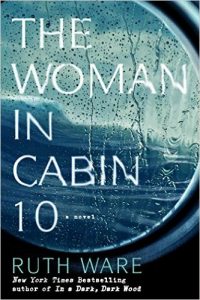 My recommendation this month was going to be Revolver, but since Erin eloquently covered it above, I'll go with another July release I enjoyed.
In Ruth Ware's follow-up to 2015's In a Dark, Dark Wood, Lo Blacklock is a travel journalist covering the maiden voyage of an exclusive cruise ship with only ten cabins. On her first day aboard, she meets a woman in the cabin next door, but later that night, Lo hears a scream and a splash—and the woman is gone. Leaving behind a bloody smear.
No one on the ship seems to know who the missing woman is, and the head of security insists the cabin next door to Lo's has always been empty. Lo decides to investigate, even after mysterious messages tell her to stop. Of course she doesn't, until it's too late.
Lo is frustrating at times, repeatedly making foolish choices, but Ware's propulsive writing locks you up and won't let you out until the end of the journey.
Which books are you reading this month?
(See previous NSLs here.)