Though some publications have already put out their best of 2016 lists, this year isn't over yet so we'll just tell you about our favorite books this month.
Except for Erin, who has a special recommendation. Because of that, she'll have the final position this time.
We hope you'll add at least one of these titles to your TBR stack.
From Jen at Brown Dog Solutions:
Moranifesto by Caitlin Moran (Harper Perennial, November 29)

Moranifesto is a collection of articles Moran published first in London's The Times. The book is divided into four sections, with exclusive content opening each division. Each article then has a brief introduction explaining how it ties into the whole manifesto.

The articles are intelligent, witty, and diverse. She covers entertainingly silly subjects such as listening to a song over and over, then switches directions to discuss political topics like abortion and poverty.

Those familiar with her work will recognize her strong feminist perspective. Moran is well informed and knows how to interject just the right amount of levity at the right time.

She's also very capable of wielding her sarcasm like a sword. Moranifesto made me want to subscribe to The Times just so I could spend more time with this amazing writer and woman. This is the perfect book for strong women and the men who are smart enough to appreciate them.

And Every Morning the Way Home Gets Longer and Longer by Fredrik Backman (Atria, November 1)

The old adage about good things coming in small packages applies to Fredrik Backman's novella. It folds an amazingly beautiful story with huge themes into a wee little volume of goodness, complete with delightful color illustrations.

But it also comes with a warning label: Crying guaranteed.

And Every Morning started out as simply a way for Backman to come to terms with something in his life. He hadn't intended to publish the scribbles he was making to free complicated emotions from his mind.

Lucky for us that changed. The novella tells the tale of an old man, his son, and his grandson. The old man is suffering from dementia and his memory shrinks every day.

Backman opens the book with a letter to readers that says, "This is a story about memories and about letting go. It's a love letter and a slow farewell between a man and his grandson, and between a dad and his boy."

And Every Morning is a single-sitting read but one to reread. Just keep the Kleenex close.

[Ed. note: Read Jen's full review of this novella here.]
From Lauren at Malcolm Avenue Review:
Inherit the Bones by Emily Littlejohn (Minotaur, November 1)

If you can get past the clown (it's a dead one, if that helps), Inherit the Bones is a super debut mystery featuring Deputy Gemma Monroe and an impressively diverse cast of supporting characters.

When the identity of the clown is discovered, the small town of Cedar Valley, Colorado, is forced to face dark secrets that have been hidden for decades.

The clown is just the newest in a long line of tragedies, including the disappearance of two boys, the discovery of a woman's body on a riverbank, and the seemingly accidental slip-and-fall death of the mayor's son.

Along with a partner she doesn't fully trust and a freshly minted recruit, a very pregnant Gemma must mine the town's past crimes in order to solve its most recent. Any good that comes from taking a shovel to buried secrets in a small town is always coupled with more violence, and Littlejohn keeps the anticipation high by weaving the past and present together in fine fashion.

Littlejohn has created numerous characters with the depth to make them intriguing while never distracting from the action. Her beautiful writing always keeps the story moving forward, and despite increasingly numerous subplots, the author deftly pulls them all together. She has a great start to a new series on her hands.

Niagara Motel by Ashley Little (Arsenal Pulp Press, November 15)

Niagara Motel is proof that writing in the voice of a child can be sublimely captivating. Readers will fall madly in love with Tucker Malone, who is more wise and world weary than any eleven-year-old should be.

Tucker never knew his father, whom he firmly believes is Sam Malone from the television sitcom Cheers, but Gina, his narcoleptic stripper mother, has tried to make a good life for him despite their dreary circumstances.

When tragedy separates them, Tucker is sent to a youth home where he meets older, pregnant Meredith, and the two strike up an unlikely yet lovely friendship.

After Meredith agrees to accompany Tucker to California to look for his father (Sam wasn't at the Cheers bar in Boston, so the next likely place to find him is on set in Hollywood, right?), what transpires next is one of the most oddly inventive road trips ever.

Yes, ever. It's so good and weird it's almost distracting, but Little's characters and writing are strong enough to keep the story on track.

Smart and funny, Niagara Motel is, at its heart, the story of Tucker Malone and his journey to find meaning and friendship. Go in blind, keep Google at the ready, and be prepared to get sucked in by this charming, heartfelt story.
From PCN:
Keigo Higashino's Under the Midnight Sun, trans. by Alexander O. Smith with Joseph Reeder (Minotaur, November 8)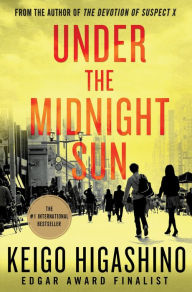 It wasn't until I was about a third into this 500+-page book that I realized almost everything I believed about certain characters was wrong. And it was a chilling realization.
I had to reevaluate the information I had from a different angle with a sense of dread.
Higashino, Edgar Award nominated for The Devotion of Suspect X, has created a Japanese Les Miserables, with a dogged detective who chases someone he believes has gotten away with murder for almost 20 years.
The story starts in 1973 with the body of a man found in an abandoned building. He's been stabbed multiple times and the police have no suspects.
Over the next two decades, we follow what happens to the man's young son and a little girl whose mother might've had a tangential connection to the dead man. Life is hard, and sometimes they have to do ugly things to survive.
And there's Detective Sasagaki, who refuses to give up on that cold murder case.
The power of this novel lies in challenging the way we judge others when we don't know the whole story. It asks us to see that even people who commit horrific acts are capable of great courage, and sometimes they do the former because of the latter.
I vacillated between fearing and loathing and being in awe of the two lead characters, and in the end, I couldn't help but feel compassion for them.
From Erin at In Real Life:
My love of reading (and my nerdiness) comes in large part from my dad, and as I write this, he's hours from taking what will be his last breath.

Dad recommended a lot of books over the years, including Breaking Blue by Timothy Egan, which he gave me for Christmas 24 years ago. It remains one of my "desert island" books.

So here's my recommendation this month, with love to my dad, and thanks to PCN for letting me recommend a book that's not new, but might be new to you.

I'm not a big reader of nonfiction, but when narrative nonfiction is done well, it takes my breath away. Breaking Blue is such a book.

Set in Spokane, Washington, in 1935 (and 1955 and 1989), it concerns a police department that defines institutional corruption in the most graphic ways possible.

When a town marshal is murdered, there's not much of an investigation and no one is arrested for the crime. By 1989, it was the longest unsolved murder in the United States.

Enter a Spokane cop who, in the course of doing research for his master's degree, finds an apparent deathbed confession to the murder from 1955. His subsequent investigation of the 1935 crime, and into his fellow police officers, is terrifying and tragic.

Breaking Blue is a genuine page-turner. When my dad gave it to me, I read it on the train back to Chicago from Spokane. I was lucky that Chicago was the last stop, because I was so engrossed in the story, I would have missed any earlier one.

Timothy Egan has won a lot of awards for his reporting and storytelling, including a Pulitzer Prize, and he deserves every one of them. In Breaking Blue, he unravels a gripping cop-vs.-cop tale, replete with fascinating history, nuanced atmosphere, and sociological insight.

This is one of those stories that prove truth indeed is often stranger than–and just as fascinating as–fiction.