If you've been finding yourself weeping for the past week, perhaps you could use some laughter. Why not check out the hilarious shows below? You're probably on the couch already.
What I especially like about these programs, all half-hour, is that they don't force silly gags or cheap toilet humor on you. They're funny and poignant because sometimes there's only a fine line between the two.
Check them out and hopefully your spirits will be lifted, too, at least while you binge.
Schitt's Creek (PopTV.com)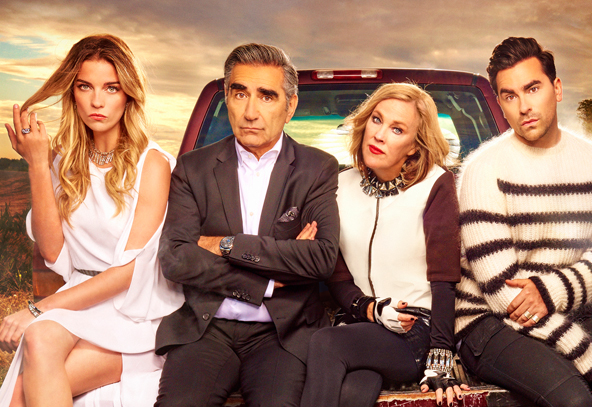 This stars Catherine O'Hara and Eugene Levy—are you laughing yet? The Christopher Guest ensemble players portray Johnny and Moira Rose, a rich New York couple who, due to their investment advisor's illegal activities, loses everything. Except a small town they bought as a joke, a place called Schitt's Creek.
The town is so pathetic the government doesn't want to seize it, so the Roses and their millennial kids, David (Dan Levy) and Alexis (Annie Murphy), go to live there. Cultures clash as they try to coexist with the small-town folk, who are worlds away from the Roses' hoity-toity friends from New York society.
As expected, O'Hara and Levy are funny; Moira is an actress so O'Hara gets to be ridiculously dramatic. But the younger Levy—also the show's cocreator and cowriter with his dad—Murphy, and the actors who play the townies are fine comedic talents, too (save for Chris Elliott, who's just gross and annoying).
Fleabag (Amazon Prime)
This six-part BBC comedy series stars one of my favorite discoveries this year: Phoebe Waller-Bridge. She creates, writes, and stars in her own shows, and does all of it with aplomb. She just won the Groucho Club Maverick Award for this show, beating out Lin-Manuel Miranda. Do I have your attention now?
Fleabag (a nickname; we never learn her real name) is a young woman trying to move on after the death of a loved one. That doesn't sound funny at all, I know, but the show has many absurd, wacky, laugh-out-loud moments. That's where Waller-Bridge's talent lies.
She makes you laugh one minute, and the next she's hitting you between the eyes with something profound. Or vice versa. Life is like that in Waller-Bridge's world, where laughter and pain are often not far from each other.
Crashing (Netflix)
After Fleabag, if you immediately want to see what else Waller-Bridge has done, check out Crashing, another absurd dramedy about six people living in an abandoned hospital to save money on rent. Think Friends but much weirder and with much less fancy digs.
Superstore (NBC)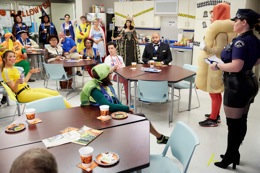 America Ferrera heads the cast playing employees at a Walmart-like store, except here the employees are more outlandish than the customers.
But the characters aren't weird for weird's sake. The writing and acting show why they behave the way they do, which engenders more understanding and compassion than judgment toward them. And isn't that what we need more of?
Have you seen any of these shows? What are you watching these days to lighten your mood?
Photos: Schitt's Creek/CBC; Waller-Bridge/BBC; Superstore/NBC