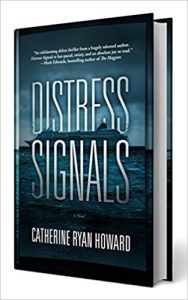 Catherine Ryan Howard's Distress Signals—shortlisted for the Irish Book Awards' Crime Novel of the Year after its UK release—opens with a man plunging off a cruise ship into dark waters, but readers will have to wait to discover why he jumped.
Adam Dunne's girlfriend Sarah leaves Cork, Ireland, to attend a business conference in Barcelona. She doesn't return. And no one can reach her. Then he receives her passport in a package mailed from France, with a note saying, "I'm sorry—S."
Adam sets out to track down Sarah, not believing she would leave him like that. When he digs into her recent activities, however, he discovers a shocking secret, and that Sarah was last seen on a cruise ship called the Celebrate. He books himself on the same ship, but will he find Sarah or encounter his own death?
Though this is Howard's debut novel, she writes with complete command of language, plot, and the thriller genre. She also knows the ins and outs of maritime laws that often lead to deaths on ships in international waters going unsolved.
The chapters alternate among the points of view of three characters: Adam; a crew member on the ship; and a boy named Romain, whose story occurs mostly in the past and is itself a mystery in how it intersects with the others. In a testament to Howard's skill, Romain's narrative is the most moving and resonant—his soul may be distressed but his humanity comes through loud and clear.
This review originally appeared in Shelf Awareness for Readers and is reprinted here with permission.