Originally reviewed for Shelf Awareness, published here with permission.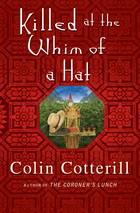 Colin Cotterill, author of the Dr. Siri series set in 1970s Laos, introduces a new sleuth in Killed at the Whim of a Hat. Though Jimm Juree lives in present day, she may feel like she's in backwater country. Jimm is a Thai crime reporter and rising star for the Chiang Mai Mail until she's forced to move with her family to a rural village. Life mainly consists of gutting fish and kitchen duties until an old Volkswagen van is discovered buried under a farmer's land with a pair of skeletons inside, one wearing a hat. Soon after, an abbot is found brutally murdered at a nearby temple, with an incongruous, orange hat perched on his head. Seeing a chance to recapture her former journalistic glory, Jimm jumps on the stories and gets help from unexpected sources on her way to solving the mysteries.
The main selling points are the characters and Cotterill's humor. Jimm observes that a red herring is "a good source of Vitamin D," and encounters dogs so ugly that they're like "Fellini dog extras." The title is based on, and each chapter is headed by, an actual George W. Bush maloprism, and the running joke is tangentially relevant to the story.
Jimm and her family are a wacky bunch, with entertaining interactions and dinner conversations. They have reasons for being eccentric and their collective heart gently reveals itself at unexpected moments. The resolution to the abbot's murder is a bit odd, but one can argue that this unconventional novel and its inhabitants deserve nothing less.
Nerd verdict: Whimsy with substance
Buy it now from Amazon
| Buy from an indie bookstore
What are you reading this weekend?