I'm late getting the list up this month because I ran away. It's been an exhausting year and I needed a respite from everything, so I went to stay with relatives where there's no cell service or Wi-Fi. Don't believe such a place still exists?
It was wonderful. I could hear crickets.
I did drive into town to make one phone call and peek at Facebook to make sure friends were OK from Hurricane Irma. Otherwise I just breathed fresh air, hiked, stared at the water and stars at night, contemplating whether I could give up working and start paying for things with chickens.
But of course, I could never give up reading.
Here are the September releases my pals and I recommend.
From Jen at Brown Dog Solutions:
The Western Star by Craig Johnson (Viking, September 5)

At book number 13, I'm still as in love with Craig Johnson's Walt Longmire series as I was at book 1. This installment takes readers into some of Walt's backstory—the early years with his wife Martha—and a deadly train trip of Wyoming Sheriffs on a locomotive named The Western Star.

Johnson includes his trademark humor and smart allusions to Agatha Christie's Murder on the Orient Express. Wyoming's nature is mostly in the passing countryside, but Johnson proves he's equally talented at building a strong setting on a moving train as he is in the amazing beauty of his home state. Boy, howdy, another great read.

You Bring the Distant Near by Mitali Perkins (Farrar, Straus Giroux; September 12)

This stunning YA novel about three generations of women from an Indian family is both timely and timeless. As teenagers, Sonia and Tara Das move to the United States with their parents. The girls attempt to acclimate to their new home in their individual styles while their mother holds tight to the cultural traditions and norms of India. Their clash of personalities comes to a peak when Sonia elopes with a man her mother disapproves of, causing an estrangement between the two.

But the next generation of Das women find a way to heal the past and move forward. The themes of identity, diversity, and compassion are relevant now more than eve, and Perkins has delivered them in a gorgeous book geared to young readers but with appeal for all ages.
From Erin at In Real Life:
House. Tree. Person. by Catriona McPherson (Midnight Ink, September 8)

Ali gets a job at a psychiatric hospital despite her lack of qualifications, but finds the residents take to her. Her success with patients gets her in trouble with the spooky couple running the facility.

She's also investigating what, if anything, her son had to do with the death of the person whose body he allegedly discovered. If that's not enough, an unexplained trauma in Ali's past haunts her, making her family question her every move.

Catriona McPherson is one of those rare authors whose characters jump off the page and into readers' hearts. She puts them in situations as fascinating as they are terrifying. House. Tree. Person. (the title is explained in the book) pulls you in and along every twist and turn. My only complaint is that it had to end.
From Lauren at Malcolm Avenue Review:
Nomadland: Surviving America in the Twenty-First Century by Jessica Bruder (W. W. Norton, September 26)

For three years, journalist Jessica Bruder immersed herself in an exploding American subculture—individuals, couples, and families who have forsaken real estate for "wheel estate," living on the road performing itinerant work to make ends meet.

As a result of the housing crisis, stock market collapses, divorces, failed businesses, and health issues, to name a few causes, people are increasingly finding themselves having to choose between food and electricity, health care or rent. By living in converted campers, vans, or even the family Prius, they have found a way to survive and sometimes even thrive.

Bruder's account of this transient community (and some of the businesses that take advantage of them, e.g. Amazon) is insightful and frightening, as the American dream is exposed as something often closer to a nightmare.
From Patti at Patti's Pens & Picks:
Dear Fahrenheit 451: Love and Heartbreak in the Stacks by Annie Spence (Flatiron Books, September 26)

Seriously, who wouldn't fall in love with a title like that? Annie Spence is witty and fun, and I think she'd be a blast to work with.

Libraries do have to break up with books—the title is too old, its condition may be too gross, the information may have been found to be incorrect. We call this weeding.

But the books Annie is in love with—well, it makes you want to keep a list of new books to try. And like all good librarians, she provides lists of recommended reading at the end.

Come for the laughs, stay for the books.
PCN's recommendation:
Dead Woman Walking by Sharon Bolton (Minotaur, September 5)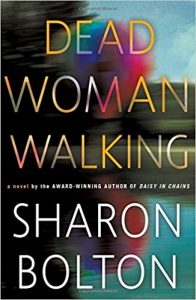 Here I am talking about trying to relax and unwind, and yet I'm recommending this book that kept me TENSE the whole time I was reading it. Sharon Bolton usually has that effect on me. And I love it.
The premise: A group of tourists on a hot-air balloon ride witnesses a man killing a woman on the ground. The man looks up, sees them. The balloon crashes, and it's nonstop terror from there as the killer relentlessly pursues the eyewitnesses to his crime.
I'm not saying anything more because the revelations are a 10 on the scale of whaaaat? Read Dead Woman Walking if you want a suspenseful thriller that makes you feel like the call is coming from inside the house.
What are you reading this month?