I was in a bad reading slump recently. Picked up six novels and put them all back down after reading only the opening paragraphs. Nothing pulled me into its world, or introduced me to characters I wanted to spend time with.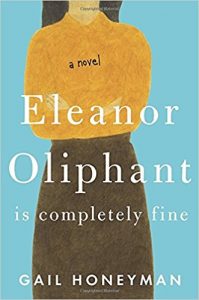 Then I met Eleanor Oliphant, and she was exactly what I needed.
Eleanor is the star of Gail Honeyman's delightful debut, Eleanor Oliphant Is Completely Fine. She does accounts receivable in an office, takes phone calls from her mum every Wednesday, eats pizza and gets drunk on vodka every weekend, and talks to no one until Monday comes back around.
When she does have to be around people, she has no edit button or social skills. When she goes to events, she sees no problem with putting sausage rolls into her purse for later consumption. In other words, she's my kinda gal.
Here are glimpses of her inner life.
On sports:
Sport is a mystery to me. In primary school, sports day was the one day of the year when the less academically gifted students could triumph, winning prizes for…running from Point A to Point B more quickly than their classmates…

As if a silver in the egg-and-spoon race was some sort of compensation for not understanding how to use an apostrophe.
Her thoughts while walking through a neighborhood:
The streets were all named after poets—Wordsworth Lane, Shelley Close, Keats Rise…poets who wrote about urns and flowers and wandering clouds. Based on past experience, I'd be more likely to end up living in Dante Lane or Poe Crescent.
Her disdain for obvious statements, after buying a coffee at McDonald's:
Naturally, I had been about to pour it all over myself but, just in time, had read the warning printed on the paper cup, alerting me to the fact that hot liquids can cause injury. A lucky escape!
How she'd like to be dealt with after her death:
I think I might like to be fed to zoo animals. It would be both environmentally friendly and a lovely treat for the larger carnivores.
She's a straight-up weirdo but this is why she's wonderful. Her life is forced out of its routines when a man falls down in the street in front of her. Extending herself is something she doesn't do, but when she helps him, it leads to unexpected places—and feelings. Eleanor is funny and tragic, innocent and wise.
There's an element of mystery to her backstory—why did she show up at her job interview with a black eye? Why can't anyone meet her mum?—but it's hardly necessary. Eleanor is the draw. She believes no one thinks she's interesting, but she's all that and more.
Nerd verdict: Eleanor is more than Fine
This is an affiliate link that provides a small commission to PCN if used.