This past Saturday, I got to do something I've long wanted to do: see John Williams perform live, conducting the L.A. Philharmonic at the Hollywood Bowl.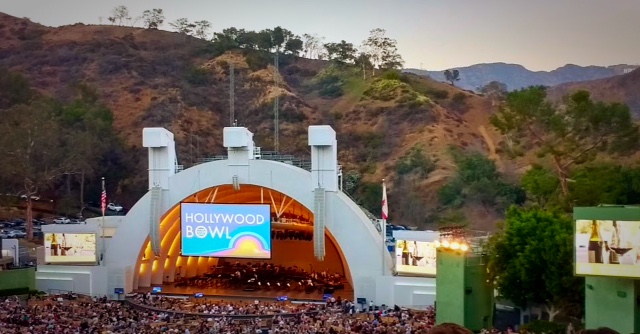 I did not come dressed as a Star Wars character, nor did I bring a lightsaber, but after talking to the costumed couple next to me, it was evident that my SW nerdiness ran just as deep, or deeper, than theirs, if only because I'm old and remember seeing the very first film in the theater when it first came out, when it was called simply Star Wars without any episode numbers or subtitles attached, and collecting the Topps trading cards and owning the action figures.
After the first segment of the concert, in which composer David Newman conducted the orchestra through scores for classic Hollywood films such as Sunset Boulevard and The Godfather, the 84-year-old Williams took the stage in a white tux jacket.
The crowd went wild, and out came the lightsabers in Force (heh).
Williams first teased us by playing his more recent compositions, including the score from this summer's The BFG. But he knew what the crowd, dressed as Ewoks and Rey and gold-bikini Leia (it was cold!), was there to hear. First came "The Imperial March."
Williams was very personable and witty between sets. He talked about how when he first saw the original SW, he saw two beautiful lead characters in Luke and Leia, assumed they'd end up together, and composed a love theme that built to "a torrid climax, hardly appropriate for a brother and sister. I didn't find out until two years later!"
He also said he'd already said yes to scoring Episode 8 because "I can't bear to have anyone else write music for Daisy—Rey," whom he'd fallen in love with after seeing The Force Awakens.
After playing more SW music, Williams performed 3 encores: music from the Harry Potter and Superman movies, and ET. I kept hollering for the Raiders of the Lost Ark theme, but no luck.
I can't properly describe how special this experience was for me. The music didn't bring back only memories of some of my favorite films ever, but also recollections of my time in the school orchestra when I played some of Williams's iconic scores on my violin in school concerts. I remembered the notes and the runs and crescendos and pianissimos, my fingers tapping along on an invisible instrument.
During Newman's portion of the concert, he played pieces by Lalo Schifrin (Mission: Impossible) and Bernard Herrmann (North by Northwest, Psycho), giants in their field who left behind unforgettable themes. John Williams is a living legend, and I was thrilled I got to see him doing what he does best.
I leave you with this. May the Force be with you.