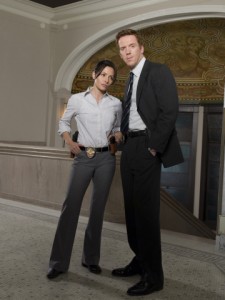 Chances were slim that the NBC cop show Life would be renewed for next season but I was still bummed when NBC co-chairman Ben Silverman officially canceled it today. This show was unique because of Damian Lewis's performance as zen but quirky LAPD detective Charlie Crews, a man who spent 12 years in prison for murders he didn't commit. When evidence finally clears him, he goes back to work instead of enjoying the $50 million settlement he wins from the city. He's teamed with the acerbic, semi-alcoholic Dani Reese, played by Sarah Shahi, to solve cases every week but he's really out to find out who framed him and why.
This show was well-written, wonderfully acted and differed from the multitude of police procedurals on the air. If NBC hadn't given Jay Leno so much prime time, there could've been room for this show. If they cancel Chuck, too, I hope their ratings go down the toilet next season.
Any other Life fans out there lamenting its cancellation?