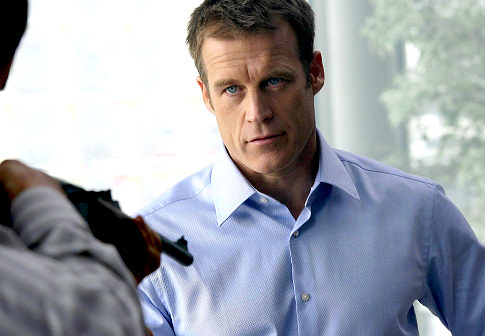 Christopher Chance (Mark Valley) is a bodyguard for hire and a man fighting the good fight as a sort of freelance version of a TV James Bond in Human Target, the exciting new series from executive producer McG (Chuck/Supernatural). Only this guy doesn't just work for money, he's willing to barter and he just might enjoy being a human target a bit too much. These quirks, the action sequences and a solid cast combine to make this new FOX drama series a standout and one to watch in 2010.
In opening scene of the seemingly ripped-from-the-headlines pilot episode, a disgruntled former employee has taken his former co-workers hostage by strapping explosives to his body and wielding a shotgun to show us how serious he is. A SWAT negotiator convinces the disgruntled employee to give up the other victims while allowing him to hold on to the company's CEO, who is tied to a chair with a black hood over his face.
Once all the other hostages exit the building, it is revealed that—SURPRISE!—our hero Chance was actually the guy under the hood the entire time and he is suddenly no longer tied up. A few lightning-quick moves and the shotgun is no longer an issue. Sure, the building gets blown up in the process, but our hero knew he was only six feet from a wall that would shield him from the blast. Of course, he also saw the fuse on the bomb had a three-second delay. Chance survives and is onto the next case after a month of recovery.
You may ask how the heck our hero was able to switch places with the tied-up CEO without anyone in the room finding out and no, it isn't explained. After all, it's based on a comic book so you have to suspend your disbelief a little. But this show is fun to watch for anyone looking for an everyman hero with some real action minus all the emotional angst that seems to plague many other action dramas these days. For instance, the cast is top-notch. Chi McBride is wonderful as the curmudgeonly Winston, Christopher's handler and partner, and the always underrated Jackie Earle Haley plays the mysterious computer whiz who freelances for the two men.
The fight scenes rival anything you've seen in the Jason Bourne or revamped James Bond movies. More importantly, you can actually see the moves because these sequences aren't shot using the lame but very popular hand-held camera method. This series shows some real promise and I will target the next episode airing on Wednesday night in its regular time slot of 9 p.m.