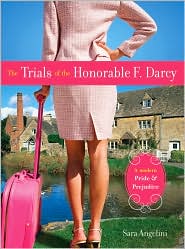 The winners of Sara Angelini's modern version of Jane Austen's Pride and Prejudice are:
Jen Forbus, for claiming Austenian spinsterhood (though that term hardly applies to her nowadays!) and her passionate determination to hold out for the right man. How can I not pick her?
Patti, because I want to help alleviate her plight of possible booklessness in the next few months.
Congratulations, Jen and Patti! Please click on "contact" in the top right corner of this page and e-mail me your address. I'll forward it to my Sourcebooks contact, who will send you each a copy of The Trials of the Honorable F. Darcy.
Thanks, everyone, for entering. If you didn't win this time but would like a chance to win another book, enter this giveaway here by sharing your nerdy stories. Have fun!