I hope you all have had a good week. I was out of town, though not on vacation, and in a mostly no-Wi-Fi area. It's good to unplug once in a while, but it's also nice to be back.
A bunch of books were waiting for me upon my return, and these three openers passed the test of not containing long descriptions of weather or scenery or people doing boring things.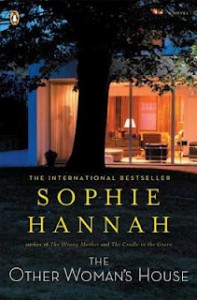 The Other Woman's House by Sophie Hannah (out now, Penguin paperback original)
Saturday 24 July 2010

I'm going to be killed because of a family called the Gilpatricks.

There are four of them: mother, father, son and daughter. Elise, Donal, Riordan and Tilly. Kit tells me their first names, as if I'm keen to dispense with the formalities and get to know them better, when all I want is to run screaming from the room. Riordan's seven, he says. Tilly's five.

Shut up, I want to yell in his face, but I'm too scared to open my mouth. It's as if someone's clamped and locked it; no more words will come out, not ever.
I discovered Hannah last year, and really liked her style of combining wit and gut-wrenching drama. Can't wait to dive into this one.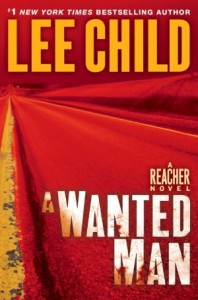 A Wanted Man by Lee Child (September 11, Delacorte)
The eyewitness said he didn't actually see it happen. But how else could it have gone down? Not long after midnight a man in a green winter coat had gone into a small concrete bunker through its only door. Two men in black suits had followed him in. There had been a short pause. The two men in the black suits had come out again.

The man in the green winter coat had not come out again.
Did you even need to read that opening? You probably already have this on your TBR list, right?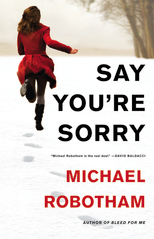 Say You're Sorry by Michael Robotham (October 2, Mulholland Books)
My name is Piper Hadley and I went missing on the last Saturday of the summer holidays three years ago. I didn't disappear completely and I didn't run away, which is what a lot of people thought (those who didn't believe I was dead). And despite what you may have heard or read, I didn't get into a stranger's car or run off with some sleazy paedo I met online. I wasn't sold to Egyptian slave traders or forced to become a prostitute by a gang of Albanians or trafficked to Asia on a luxury yacht.
I'm almost done with this book and it's another good one from Robotham. If you're not already reading him, I recommend you start.
Any of these pique your interest? What are you reading?