It's been a while since I've done one of these because I'm lazy selective about who I ask for a chat. Potential interviewees must go through rigorous testing to determine if they have the Cool Factor. Today's guest, author Brett Battles, not only passed, he set a new record for most tacos eaten while trapped in a shark tank. He's a doer of the right thing, defender of the free world, champion of justice. I'd bet if we search his place, we'd find a Brettmobile in his Brettcave.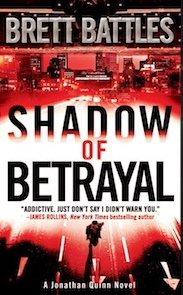 When not world-exploring and engaging in derring do, he writes the Jonathan Quinn series about a cleaner employed by a nebulous government faction to dispose of bodies. Besides being twistily plotted and action-packed, the novels take place in exotic locales, captured in vivid details from Brett's own travels. The third book in the series, Shadow of Betrayal, comes out in paperback tomorrow (May 25) and Brett's giving away two signed copies.
But first, he parachuted in for a nerd chat.
PCN: Settings for your books include San Francisco, L.A., Saigon, Berlin, D.C., Singapore—all places I've spent time in. Why is Quinn stalking me?
BB: Simple. In Quinn's line of work, it's all about the preparation. Making bodies disappear is not something you just do on a lark. Knowing as much as possible about an operation is essential to performing flawlessly. That, of course, includes getting a good look at future…eh…projects. (Height, weight, that kind of thing.) Oh, and best of luck on your future travels!
PCN: Um, I think I'll use the fake passport and gain 60 pounds before my next trip. Both you and Quinn travel a lot. How would he dispose of a body on a plane if he had to? No particular reason why I ask, because I never encounter annoying people on planes.
BB: Well, it's not like you can just open a door and throw the body out. I think the key would be to make it appear to other passengers (and crew members) that the body is still alive, like he's just dozing. But make sure his seat belt is on and his chair is all the way up so a flight attendant doesn't try to wake him. Then it's a quick trip to the toilet where, despite FAA regulations, you put in a call to one of your team members who then arranges to have someone pretending to be a doctor waiting at the gate. From there it's just a case of a passenger who's taken ill and needs assistance getting out. Done and done.
PCN: Brilliant! I'll make note of that. I sometimes feel like a cleaner because friends often call me to get them out of jai–I mean, pick them up from airports. Are you the cleaner type, the guy who likes to get dirty, or both?
BB: Wow…it all depends on the context in which that question is asked, doesn't it? Let's just say I'm whatever I need to be in whatever situation I find myself. (HA! God, if only I was that clever!)
PCN: Your writing process sometimes involves sitting outside taking pictures and/or just letting a video camera capture life as it happens. What's the juiciest thing you've caught on tape that ended up in one of your books?
BB: Well, there was this one time I found myself invited to a barbeque at this politician's house, so I thought I'd take some photos and video. Who knew that when I opened the study door, I'd find him and– Wait, I forgot. By the terms of our settlement I'm not actually supposed to talk about that. Let's just say the video function on my camera works very well in low light. I did get a photo of Paris Hilton checking out the self-help/relationship section at Barnes & Noble. True story.
PCN: She can use some self-help all right. You've said one of your favorite words is "kit," because "someone who has a specific kit usually is a pro at what they do." What's in your writer's kit besides giant 2.5-feet Post-Its? And why so big?
BB: I LOVE my giant Post-Its! When I'm working out the plot of a book you could come into my place and see several of them plastered on my walls. My other favorite thing is my dry erase board, also for plotting. I fill it with stuff, take a digital photo of it, transfer the photo to my iPad, then erase the board and start filling it again. My dream is to have a workspace someday where an entire wall is dry erase board. We had that at my old day job and it was AWESOME!
Here's a partial list of my kit:
Giant Post-Its with multiple color Sharpies
Dry erase board with multiple color pens
Canon digital camera
Canon digital waterproof camera
Cheap HD palm-size video camera
iPad (I can't believe how much I'm using this already)
iPhone
Laptop
Eyes for observing
Feet to wander around on
PCN: Love it. I already have eyes and feet so that gives me hope. I started reading your books after you got my attention on Twitter with tweets about burritos and grilled cheese sammys, which makes you one shrewd tweeter [he posts pictures, too]. How has social networking affected your relationship with readers?
BB: What social networking has done is not only narrow the gap between authors and readers, it's pretty much destroyed it, which I am actually in favor of. Just yesterday I was exchanging messages on Facebook with a reader in Romania who listens to audio versions of my books. In the past, readers would have had to rely on sending letters to publishers who would then hold onto them for months before forwarding to the author. Now, my potential audience can reach me directly, and same day. Also, since writing is such a solitary task, social networks like Twitter and Facebook act as a kind of way to stay connected even when all I'm doing is writing in my dinning room. I could have dozens of conversations in a day and never actually speak a word. Wait…not sure that's a good thing.
PCN: The Deceived [second Quinn novel] won the Barry Award for Best Thriller of 2008. Ever carry the award around to get free beer or cut in line at Disneyland?
BB: Why carry it around when I have a life-size, full-color reproduction tattooed to my chest?
PCN: Wow. I didn't know you were the guy with the Barry tattoo. You have a standalone coming out next year called No Return. Can you tease us with a storyline? How was writing it different from writing the series?
BB: Let me give it a try:
What happens when you return to your hometown after seventeen years, only to witness the crash of a Naval fighter jet? What happens when the man you tried to save from the crash isn't the man the newspapers and Navy claimed died? What if they don't want you talking?
And what if they aren't the only ones?
Set in the upper Mojave Desert north of Los Angeles, No Return tells the story of television cameraman Wes Stewart and the journey home he should have never taken.
How's that?
PCN: That's summer-action-movie-trailer good.
BB: Okay, how is writing a standalone different from a series? Well, the biggest difference is with my series I have characters I come back to time and again. I know their stories. I know how they think. And I know how they will react in given situations. With the standalone, every character is new, as is every relationship and every reaction. I love writing both.
PCN: I like how even though you're a thriller writer, you attended the Romantic Times Booklovers Convention this year and paraded around in your underwear. What was that about? Part of your campaign for the Mr. Romance Cover Model contest?
BB: No comment. But I should have won! Dammit!
I think he should've won, too, just to see what he'd do with a loin cloth and hair extensions. Deep thanks to Brett for subjecting himself to this interview and providing pictures. For more info, visit his website and Murderati, where he contributes a post every other Thursday.
Brett has generously offered to send two copies of Shadow of Betrayal to a couple lucky readers. He'll also personalize them and his handwriting is supposedly nicer than a girl's.
Requirements for entering the giveaway:
be a PCN subscriber or Twitter follower (if you tweet about this giveaway, you'll get 3 entries)
leave a comment about a situation when you had to clean up someone else's mess
be a U.S. or Canada resident
Giveaway ends Wednesday, June 2, 5 p.m. PST. Winners will be randomly chosen via Random.org and announced here and on Twitter. Winners will have 48 hours to claim the prize before alternate names are chosen.
Good luck!