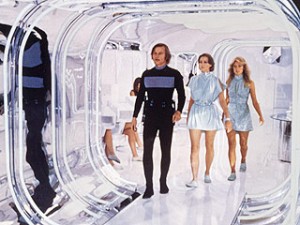 When I read last week about how the long-delayed Logan's Run remake might move forward yet again, I didn't really care one way or the other. It was a marginal '70s movie that I only have dim memories of so I have nothing against someone wanting to try and improve on it (because remakes are ALWAYS improvements on the original, right?).
But then I started thinking about the movies for which I'd march on Washington against their being remade (OK, maybe I'd just boo loudly from my couch) because it'd be all kinds of wrongness. Here are my top 10, in no particular order:
The Godfather. Marlon Brando made talking with cotton balls in his mouth seem intimidating; anyone else would come off ridiculous.
Breakfast at Tiffany's. I'd put anything with Audrey Hepburn on this list since no one can ever step into her shoes (or black sheath dress, in this case), but since it's too late for Roman Holiday—the 1987 TV remake with Catherine Oxenberg was atrocious—I'll go with Tiffany's. Also, though there are many different versions of "Moon River," none is more heart-tugging than Hepburn's in the movie.
The Crying Game. If you already know the bulk, er, twist in the story, what's the point of doing another version? It'd also be really difficult to find someone else like Jaye Davidson to play Dil so convincingly.
The Matrix. It was mind-blowing when we first saw it. After all the copycats since, bullet time won't look that impressive again.
His Girl Friday. I can't think of any actress today who can talk as fast as Rosalind Russell, or tackle a man as effectively while wearing a pencil skirt and high heels.
Love Actually. Many storylines, characters, and actors converged serendipitously to make this perfect movie. Trying to juggle that many balls again with a different cast would be pushing their luck.
Waiting for Guffman. Everyone in that cast is a master at improv. It's hard to imagine another group of actors who can match that level of comic brilliance.
Raiders of the Lost Ark. There ain't nuthin' wrong with it so hands off!
Love Story. You're probably thinking "whaaaat?" but I have a soft spot for this. It's one of the first movies I ever saw in a theater (I was 4 or 5) and I cried my little buns off. The leads are so pretty, the story so romantic and tragic. But Ollie or Jen wouldn't get away with "Love means never having to say you're sorry" today without audiences laughing at them.
Star Wars. Do I have to explain this one?
What would you hate to see remade?