The MTV Movie Awards have a category called Best WTF Moment but I thought most of the show could be labeled thusly, minus the "best." Why did Olympic gold medalist Shaun White present a trophy dressed like Crocodile Dundee? Why was he there at all? Who told Christina Aguilera to place a glowing heart on her vagina?
Tom Cruise opened the show as the bald, profane Les Grossman character from Tropic Thunder. I didn't like his performance in the movie and I didn't like it here. The problem: Cruise doesn't know how to truly transform himself into a character. When Meryl Streep or Dustin Hoffman takes on a character vastly different from themselves—heck, let's just take Eddie Murphy in the Nutty Professor movies or Robert Downey Jr. in Thunder. These actors know it's not enough just to slap on a fat suit, wig or bald cap. They change their voice. Cruise sounds exactly the same no matter what character he plays, making me think, "Oh, that's just Tom Cruise cussing in a fat suit." And that gets old real fast.
The highlight was no doubt Sandra Bullock's appearance to accept the Generation Award, presented to her by Betty White, Bradley Cooper and…Scarlett Johansson? Johansson's role in the presentation was unclear at first since she had nothing to say, but then she ended up in a quick liplock with Bullock to make up for Bullock and Ryan Reynolds, Johansson's husband, not winning the Best Kiss award.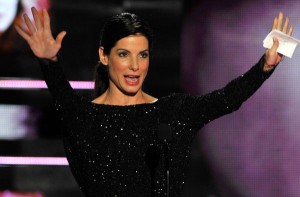 But that's not the highlight, at least not for me. Bullock, looking smashing in a short black dress cut low in back (White told her never to wear it backwards), continues her class act with a humorous speech showing what a good sport she is, retaining her grace and charm amidst the sordidness she was rudely thrown into, finally deflecting attention away from herself to ask for prayers for people being affected by the oil spill in the Gulf. You can see her speech in the video below.
Ken Jeong won for Best WTF Moment in The Hangover and though I'm not a fan (he grossly overacts in everything), he surprised me with a touching tribute to his wife, who has beaten cancer.
Host Aziz Ansari had a few funny moments, though not as many as I would've liked. Best bits: his spoof of Precious, complete with headband and chicken stealing, and playing a "swagga coach" named Taavon training an uncool Zach Galifianakis. (Taavon: "I only sit on things that are purple.")
Winners:
Best Female Performance—Kristen Stewart (New Moon)
Best Breakout Star—Anna Kendrick (Up in the Air)
Best Scared-as-Sh*! Performance—Amanda Seyfried (Jennifer's Body)
Best Kiss—Stewart and Robert Pattinson (New Moon)
Best WTF Moment—Ken Jeong (The Hangover)
Best Villain—Tom Felton (Harry Potter and the Half-Blood Prince)
Biggest Badass Star—Rain
Best Male Performance—Robert Pattinson
Best Comedic Performance—Zach Galifianakis (The Hangover)
Best Movie—New Moon
Best Fight—Beyoncé and Ali Larter (Obsessed), though this award wasn't televised
Did you see the show? What did you think? Favorite moments? Weirdest?
Photos by Picture Group