By popular demand—OK, one person asked—I'm bringing back the First Impressions post, at least for today. You may have seen last week the pics of all the books that have entered my home.
I read the first chapter of everything that comes in to determine if the book goes on my to-be-read pile or the one that gets donated. If a book opens with detailed descriptions of scenery, weather, or someone's clothes, it usually heads straight to the latter group. Here are three books that passed the first-impressions test.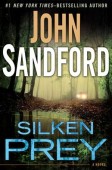 Silken Prey by John Sanford (Putnam, May 7)
Squeak.

Tubbs was half asleep on the couch, his face covered with an unfolded Star Tribune. The overhead light was still on, and when he'd collapsed on the couch, he'd been too tired to get up and turn it off. The squeak wasn't so much consciously felt, as understood: he had a visitor. But nobody knocked.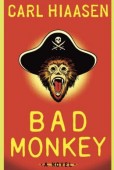 Bad Monkey by Carl Hiaasen (Knopf, June 11)
On the hottest day of July, trolling in dead-calm waters near Key West, a tourist named James Mayberry reeled up a human arm. His wife flew to the bow of the boat and tossed her breakfast burritos.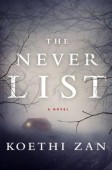 The Never List by Koethi Zan (Pamela Dorman Books, July 16)
There were four of us down there for the first thirty-two months and eleven days of our captivity. And then, very suddenly and without warning, there were three. Even though the fourth person hadn't made any noise at all in several months, the room got very quiet when she was gone. For a long time after that, we sat in silence, in the dark, wondering which of us would be next in the box.
I'm a little scared, but this opening has me hooked. Will make sure Mr. PCN is always home while I read it.
Any of these look good to you? Which would you pick up first?
Happy Friday! Hope you have good reads for this weekend!