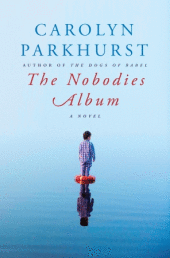 Carolyn Parkhurst's The Nobodies Album is such a unique book with such beautiful language, I won't do it justice by compressing its ideas into a review. But hopefully I'll pique your interest enough to get you to read it because I really, really want you to. Thanks to Doubleday, I'm even giving away two copies to help that along. But first, let me tell you a little more about it.
Octavia Frost is a famous author traveling to New York to turn in the manuscript for her latest book, The Nobodies Album. It's unlike any of her previous novels because it consists solely of revised endings for all of them. While in Times Square, Octavia is stunned to see a news crawl on a Jumbotron announcing that her son Milo, lead singer of a rock band called Pareidolia, has just been arrested and charged with the murder of his live-in girlfriend. Octavia and Milo have been estranged for four years but she decides it's time she tries to bridge the gap, literally and emotionally.
Throughout this book, excerpts from Octavia's original endings and her rewritten ones are interspersed between the chapters dealing with the murder mystery. Though her stories range from paranormal to sci-fi and metaphysical, they reflect Octavia's struggles to cope with a family tragedy, details of which are slowly revealed. The new endings are more hopeful than the previous versions, a blatant appeal for Milo's attention since one of her books is the reason for their estrangement. The Nobodies Album is a phrase from a childhood game Milo used to play with her back when their family was whole.
Octavia's attempt at reshaping her personal story through her fictional ones raises an interesting question: Since writers and artists inevitably inject parts of themselves into their work, should they be allowed to alter it as they evolve? As Octavia says to Roland, a Mick Jagger-y aging rock star who's mentor to Milo:
"If I've changed since I wrote those books, if the way I see my life events is different, and the way I approach relationships is different…If I were writing any of those books now, they wouldn't be the same books. I want to change the way I put myself in them."
Roland responds:
"The only way you got here, to the point you're at now, is by writing those books the way you did…I guess I'd just say that if you want to do something, do something new. And whoever you are now, whatever ways you've changed, that's going to show up in the new work without your even trying."
I'm with Roland in this debate, but I do understand the endless need to tinker with one's words (this post alone took 84 hours), chasing perfection, knowing that complete satisfaction is elusive.
I don't know how many revisions Parkhurst went through but her prose and dialogue are sublime. From Milo's rocker talk to Octavia's prim expressions and the media-ready soundbites of the dead girlfriend's mother, each character's speech has its own rhythm and sounds like how I imagine people like that would talk. Milo isn't a spoiled celebrity, though; he shows sensitivity even while wary of Mom. Octavia is far from being a nice, cuddly woman but I don't judge her. How can I criticize someone for the way she deals with grief?
The author also gives a lot of insight into the writing process, which I found fascinating:
I used to think it made me a good writer—look at me, honing my craft as I stand here to pour a cup of coffee, drafting and revising my descriptions of the mug, the smell, the sound of the hot splatter! Now I just find it tiresome, though it doesn't seem to be something I can stop. An end to narration: that's what I imagine death will be like.
While I don't find it tiresome to come up with descriptions for this novel, Parkhurst is more eloquent than I so I'll steal another quote from her to sum up my feelings:
You, the reader, shouldn't be able to see what's coming, but you should put the book down feeling satisfied that there's no other way it could have gone.
And that I did.
Intrigued? If you'd like a chance to win one of two hardcover copies Doubleday is allowing me to give away:
be an e-mail subscriber or Twitter follower
leave a comment about a scene/chapter in your life you'd like to rewrite
have U.S. address, per Doubleday's request
Giveaway ends Tuesday, July 6, 5 p.m. PST. Winners will be randomly chosen via Random.org and announced here and on Twitter. Winners will have 48 hours to claim the prize before alternate names are chosen.
Now let's hear your stories with new happy endings!