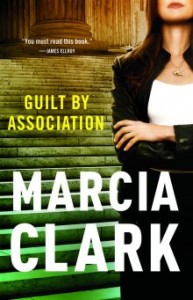 Former Los Angeles Deputy District Attorney Marcia Clark acquits herself nicely in her debut novel, Guilt by Association (April 20), which is also the first title out of the gate for Mulholland Books, the new suspense imprint of Little, Brown that has an impressive lineup of writers raring to go.
Guilt centers on L.A. DA Rachel Knight, who catches the rape case of a young girl with a rich, politically connected father while she tries to surreptitiously solve a murder which she has been ordered not to investigate. She has help from a friend who's an LAPD detective, and the friend's boss, with whom there's a spark. Despite all the police connections, Rachel finds herself in more than one harrowing situation before finally getting to the bottom of both cases.
Clark's protagonist is clearly passionate about her job and getting justice for the victims, whom the author never loses sight of and makes sure we feel the damage done to them. She moves the story along at a steady clip and keeps the reader in the dark about the truths until near the end. And though many mysteries have been set in the City of Angels, I never tire of the descriptions of local haunts. (The ARC I have even comes with color photos of Rachel's world, some taken by Clark herself.) Rachel lunches at the Pacific Dining Car and lives in the Biltmore Hotel, where she orders room service and hangs out in the bar with her friends. Can I get a deal like that, please?
As nice as Rachel has it, I think too much attention is paid to her clothes. There's the clingy cobalt-blue sweater and the fab red V-necked one and the starchy white blouse with metal cuff links and charcoal-gray cashmere turtleneck, etc. I love fashion as much as the next girl and have drooled over gorgeous shoes, but in crime fiction I care less about what the protag is wearing and more about the next clue/discovery/plot development. The lavish descriptions used for Lieutenant Graden Hales—"tastefully muscled," "gold-flecked hazel" eyes, "lazy smile," "pronounced cheekbones, a strong nose, and a generous mouth"—also feel a little too romance-y for me. But while this book may not be as hardboiled as I'd like it to be, it's a fast, diverting read that shouldn't make readers feel guilty for picking it up.
Nerd verdict: Guilt is appealing