Debra Granik's Winter's Bone, which won the Sundance Grand Jury Prize for drama this year, resembles two previous winners, Frozen River in 2008 and Precious last year, in being the kind of movie that's well crafted but saying I loved it would be inappropriate due to its unrelenting bleakness in depicting people driven to take desperate action just to survive.
The movie, based on Daniel Woodrell's novel, takes place in Missouri's Ozarks and follows seventeen-year-old Ree as she searches for her meth-cooking dad after he puts up their house for bail then disappears. She's also trying to take care of two younger siblings and her mother, who has slipped into a non-responsive, shell-shocked state. The people in Ree's community don't want her asking questions, which lead to some disturbing discoveries.
I saw it with PCN contributor, Eric Edwards, with whom I had the following conversation to process our thoughts about the film.
Pop Culture Nerd: I wish you'd taken a picture of my face when the credits rolled. It would've summed up my feelings about this movie perfectly.
Eric Edwards: When your jaw was just hanging open?
PCN: Yeah. This movie is so unsettling, from beginning to end. What did you think?
EE: I'm probably going to be haunted by it a little. Those characters in the movie reminded me of my own rural upbringing though I'm not from the Ozarks. I could draw many parallels to people I grew up with.
PCN: Did you cook meth and play the banjo?
EE: No, meth was not part of my childhood but the banjo did feature prominently. And I saw more full sets of teeth in this movie than I expected.
PCN: Everybody was so creepy with their dead stares and quiet menace. They looked like they could erupt into violence at the drop of a hat and it made me so tense, bracing myself for it.
EE: But we actually saw very little violence. It was implied and you see the aftereffects. It's a true testament to the storytelling that the movie makes you feel that way without going all Tarantino. The thing that disturbed me the most was watching Ree's little sister be exposed to so much hardship. I just wanted to take her out of there and give her a better life.
PCN: I felt that way about all the kids. I hate it when children have to suffer. Jennifer Lawrence was amazing as Ree. This is a star-making role, for sure. She was so still and confident, something some actors don't know how to be on screen. They think chewing scenery equals great acting, but a good actor knows economy of movement can be much more effective.
EE: She did most of her acting with her eyes.
PCN: Yeah, there were moments when she was talking and acting tough but you could see in her eyes how scared she was. Hey, side note: What do you think about her for Lisbeth Salander in the American version of The Girl with the Dragon Tattoo?
EE: The coloring's all wrong; she'd have to dye her hair. She could be tough enough but I don't know if those baby cheeks will translate to Lisbeth.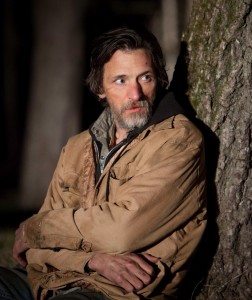 PCN: You're right. Just a thought. Let's talk about John Hawkes, who plays Teardrop.
EE: Oh, man, does that guy have a thousand-yard stare or what? That face reads like a road map to anger. You could see the rage steaming off him. My only issue is that he was too controlled for all that meth he was snorting. He'd have the shakes.
PCN: Ah, I wouldn't know anything about that. Hawkes just scared the beans out of me every time he was on screen. He reminded me of a younger Harry Dean Stanton. And you know who else scared me? Patty the day whore from My Name is Earl.
EE: What's her real name again?
PCN: I keep forgetting. [Going to IMDb.] It's Dale Dickey. No wonder we always forget. It's a man's name.
EE: Right! It's a complete 180 turn here from what she did on Earl. It's impressive how she can be equally adept at both comedy and drama.
PCN: I've seen her do drama before and she is good.
EE: Yeah, but nothing on this level.
PCN: Did the movie move too slowly for you? Some parts did for me. Ree did a lot of walking around and asking questions but nobody would tell her anything so nothing was happening.
EE: That didn't bother me. It just added to the bleakness and authenticity of her situation. It goes to the code that rural people have of sticking together and keeping your mouth shut or you'll be damn sorry you opened your trap.
PCN: So, does the movie make you want to read the book?
EE: Yeah. I have a few questions because some plot points went by too fast for me and I want to see if it covers how they all got to be in that situation.
PCN: I heard the novel is superb. Let me borrow it after you're done.
PCN verdict: Tough, raw Bone. EE verdict: Winter's cuts to the Bone.
Photos: Sebastian Mlynarski/Roadside Attractions