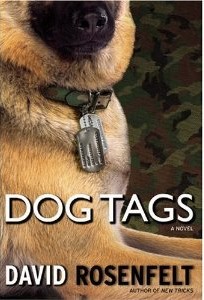 When you hear legal thriller, you probably think John Grisham or Scott Turow or Richard North Patterson and that's all good. What I can't figure out is why David Rosenfelt isn't up there with those guys. His novels about Andy Carpenter, the dog-loving, independently wealthy defense attorney, are just as well-plotted and paced, if not better since those other authors can sometimes go unnecessarily long. Rosenfelt's books are also funny and always feature amazing dogs.
The eighth installment in the series opens with Andy being asked to represent Milo, a German shepherd police dog re-purposed as a thief by his owner, ex-cop and Iraq war veteran, Billy Zimmerman. Zimmerman's in jail accused of murder while Milo's been put in a cage with, oddly enough, a 24-hour armed guard. Andy goes to court to argue for the dog's release but soon finds himself taking on Zimmerman as a client as well.
Formerly a well respected cop, Zimmerman signed up for Iraq then lost a leg in a bombing. When he couldn't get his police job back upon his return, Zimmerman became a thief, using Milo as his accomplice. The two get in trouble when their target for a gig ends up shot by an assassin right in front of them and Zimmerman is arrested for his murder. The case is further complicated by the fact the murder victim was Zimmerman's Army superior. Though the prosecution theorizes that Zimmerman had a grudge against the man partly responsible for the loss of his leg, Andy discovers the real motives behind the killing are more sinister and involves people much more powerful than Zimmerman. Andy then has to decide between doing what's best for his client and preventing a cataclysmic event from happening on U.S. soil.
Rosenfelt knows how to entertain, delivering thrills, laughs, heart and likable characters. He also knows how to comment on current affairs and the plight of our war veterans without getting on a soapbox. Zimmerman is a thief but also a man who, after defending his country, is failed by its healthcare system, the justice system and the police force on which he served before enlisting in the Army. But Zimmerman doesn't feel sorry for himself; he turns out to be one of Andy's best clients ever, making me want something to go right for him.
As in all Rosenfelt novels, the canine characters are as dynamic as the human ones. Milo has a heroic moment near the end that's breathtaking and Andy's golden retriever Tara remains cooler than cool. Andy gets an amusing new (human) law partner, Hike, who's brilliant despite his pessimistic attitude about everything. I, on the other hand, am optimistic that you'll enjoy this book and the entire Andy Carpenter series.
Nerd verdict: Clever Dog