Though my butt is once again numb from too much couch time Tuesday night, I can't say it was all time well spent. I enjoyed the Glee premiere but so far none of the new shows have wowed me. Here's a quick rundown to help you spend your time more wisely.
**SPOILERS!**
Glee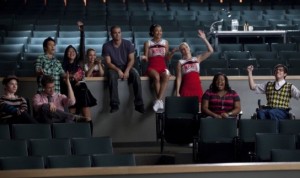 Dot-Marie Jones, as the new football coach, Ms. Beiste, instantly made herself a welcome addition to the cast. Ms. Beiste is mean, vulnerable, unpredictable—someone only a skilled actress can pull off. Sue (Jane Lynch) now has a formidable opponent. The jury's still out on Chord Overstreet as new kid Sam because I just can't get past that "Bieber haircut," as Finn calls it. Sam did a nice rendition of "Billionaire" but there's nothing memorable about his voice.
Charice's guest star turn as Sunshine was unnecessary since she doesn't sing better than any of the girls in New Directions. I wish her solo moment could've been given to Mercedes (Amber Riley) or Tina (Jenna Ushkowitz), incredible singers who don't get showcased enough. Sunshine's choosing to join Vocal Adrenaline was no big loss as far as I'm concerned. I did enjoy seeing Cheyenne Jackson as the new V.A. director and Charice's line: "They gave my mom a condo and a green card!"
Mike Chang (Harry Shum Jr.) and Tina are adorable together. Who knew Mike had those abs?? Brittany's (Heather Morris) attempt to accuse Ms. Beiste of molestation was so wrong but her confession of "I actually want to touch her boobs" was even more so. I felt bad for Finn being thrown off the football team. His dating Rachel, who was super bitchy this episode, can't possibly help his self-esteem. Rachel's solo rendition of "What I Did for Love" was lovely but I missed the big group number that usually closes the show.
Nerd verdict: A subdued but still-fun Glee
Raising Hope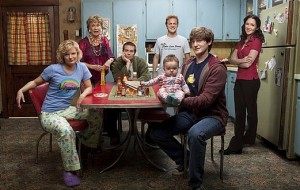 This new FOX sitcom about a young man still living at home who becomes a dad from a one night stand is from My Name is Earl's creator, Greg Garcia. It resembles that other sitcom in several ways: the white trash family, the voiceover narration, an appearance by actor Gregg Binkley, who played Kenny on Earl. (A newscaster even mentioned Earl on TV, though not by name.) One way it differed was that it wasn't funny. The confused and often topless grandma (Cloris Leachman) who kisses her grandson on the mouth makes me cringe. OK, there was one decent line—a prison guard, talking about a death-row inmate, says: "Her last meal requests are a McRib and a Shamrock Shake. That should buy her a few more months. Those things are never available at the same time." Hope isn't a terrible show; there's just something off either in the comic timing or maybe the ensemble just hasn't gelled.
Nerd verdict: My Hopes are low for this one
Running Wilde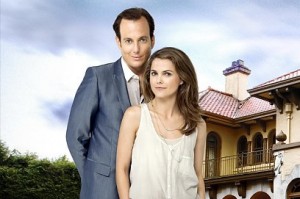 This is an odd little show. Can't really recommend it but it's not without merits, one being that it's odd. Not all of the eccentricities are funny but at least this isn't a run-of-the-mill sitcom. Will Arnett plays a spoiled rich man, Steven Wilde, who's trying to win over his childhood crush, Emmy (Keri Russell), an eco-activist who's been living in the jungle for years. Arnett and Russell are both engaging actors but I can't say I'm rooting for their characters to be together because there's absolutely no romantic heat there. Heck, Arnett has more chemistry with his driver, Migo (Mel Rodriguez), who's paid to be his friend. Young Stefania Owen, who plays Emmy's daughter, Puddle, is also a winsome presence but in this instance, the sum is less than its parts.
Nerd verdict: Not Wilde about it
Chase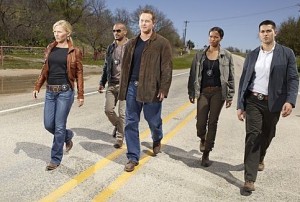 This is an NBC Monday night drama I only got around to watching last night. I'm not a big fan of Jerry Bruckheimer-produced television but this one's fast pace kept my interest. The show about U.S. Marshals lives up to its title by providing quite a few chases, mostly on foot. The villain (Travis Fimmel) was a serial-killing bastard so watching the Marshals close him down was rather satisfying. Kelli Giddish, as team leader Annie Frost, has an athletic tomboy quality that makes her believable when she jumps from a helicopter or off a bridge to get the bad guy (the actors apparently do many of their own stunts). She chews some of her lines, though, trying a little too hard to act tough. She looks like she's got the grit; if she relaxes a bit, she'd be even better.
Of her team, Amaury Nolasco is the one I'm most happy to see. I miss my Sucre from Prison Break. Can't say the same for Jesse Metcalf, whom I couldn't stand on Desperate Housewives and is now playing the dumbest Marshal ever. Admittedly, that's not his fault; he's given stupid lines. His character wouldn't be qualified to fetch coffee for office staff, much less be a field deputy.
I was surprised I enjoyed this show on any level because the preview was terrible. Perhaps it made me feel a little safer to see the good guys prevail, something that doesn't always happen in these uncertain times.
Nerd verdict: Action-packed Chase
What did you think of the Glee premiere? Did you watch anything else?