Hilary Davidson's debut mystery novel, The Damage Done, doesn't drop until tomorrow, September 28, but she's already a star. Ken Bruen says in a Mulhollandbooks.com post that she's among "a whole batch of gung ho mystery writers who believe that mystery is the new rock 'n' roll…writing the most exciting literature this side of the Booker Prize." Her award-winning short stories have been published in Thuglit, Beat to a Pulp, Spinetingler, among other venues. Hilary is also a freelance journalist, travel writer (she's written many Frommer's guidebooks) and expert on gluten-free dining. I wouldn't be surprised if she's a skilled trapeze artist, CIA agent and world-class discus thrower, too.
The Damage Done is about Lily Moore, a travel writer living in Spain who returns to New York City to investigate her sister's death. Upon her arrival, she finds that nothing is as it seems. Hilary and her reps at Forge have generously offered to let me give away one copy. But first, read on for our nerd chat, which is rated R for adult language and mature situations.
PCN: Many authors have to write several novels before they get published. You hit with your first one. Can you tell us how it happened and give one reason why we shouldn't shove you down the stairs?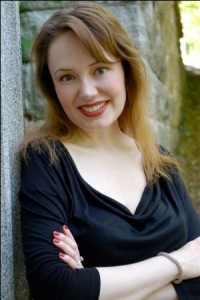 Hilary Davidson: There's a big difference between what you've heard and what really happened. The Cinderella version is that I published my first short story in Thuglit, legendary agent Nat Sobel read it, and then his partner, Judith Weber, sold The Damage Done in a two-book deal to Forge. Technically that's true, but the reality was more like this: I wrote a book that failed to sell and is now buried in a hard drive somewhere. After that, I tried working on short stories, and spent more than a year getting rejected by everyone. One publication strung me along for almost six months before saying no. I was on the verge of admitting fiction failure when Thuglit stunned me by saying yes to a story. That was "Anniversary," which did eventually lead to many good things. But it took another ten months for me to get a second short story published.
PCN: All right, I shall abstain from shoving for now. You've published many non-fiction books, short stories, magazine articles. How was writing this novel different from those other experiences? What was easier? Harder?
HD: A lot of the non-fiction work is what I call "paint by numbers" journalism. There's a set format, whether it's a guidebook or a magazine article, and you know what your audience wants. It's pretty easy to do when you get the hang of it. Short stories take me draft after draft to get to a point where I feel like they're working. But a novel? Let me put it this way: I feel sorry for my husband because he has to live with me while I'm writing novels. When I start one, I know where I'm beginning, and I have a vague sense of the ending, and everything in-between is a mystery. My brain dwells on that mystery and the real world recedes bit by bit. While writing a book, I've been known to get lost on the way to a friend's apartment (a place I've been only 50 times or so) and wander into traffic.
PCN: I do that all the time and I'm not even writing a book! I'll blame it on writing this blog. You've traveled all over the world. What are some of the most mysterious, seductive places you've ever visited?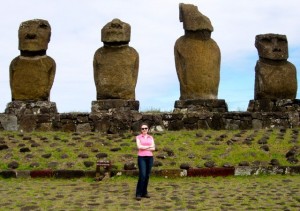 HD: The most mysterious was probably Easter Island, in that there are lots of theories about those giant statues there, but no one actually knows much of anything. Even the few remaining Easter Islanders can't read the texts from the island's glory days. But it's a beautiful place, and the night sky is so clear you can see a glowing band of light cut through the sky at night — that's the center of our galaxy. I'm an astronomy nerd from way back. I'm also a sucker for ruins, so I fell in love with Turkey. Before I visited, I hadn't realized about half of the Roman Empire sits in what is modern-day Turkey.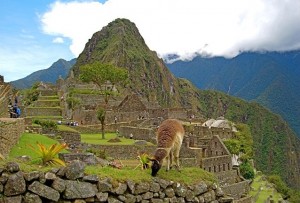 But my very favorite place may be Peru, which has Inca ruins, stunning colonial architecture, the Andes, amazing art and food, and llamas. You can't beat llamas.
PCN: Have you ever been in a Turkish prison?
HD: No Turkish prison, but I have been inside a Turkish harem!
PCN: Even better! Why do you love cemeteries and brothels?
HD: I was quiet about my love of cemeteries for years, but I outed myself when I wrote a book of New York City walking tours and snuck in one of Brooklyn's Green-Wood Cemetery. There was a debate over that, but my editor stood behind me and the tour made it into the book. Later, I found out my editor was a member at Green-Wood. There are lots of secret cemetery admirers around — I'm just more vocal about it. Green-Wood has great views (you can see the Statue of Liberty from there), a man-made lake (like Central Park's), rolling hills and leafy trees, stunning statues everywhere…what's not to like?
PCN: That sounds much nicer than my neighborhood.
HD: Ancient brothels, like what I saw when I visited Pompeii, are interesting, too. In history classes, the focus is on wars and speeches and philosophy. Everything sounds so grand. Then you visit, and you realize these ancient towns were filled with peepshows and brothels, kind of like Times Square before they cleaned it up. It's a whole other side of history you don't usually read about.
PCN: In Pompeii, there's a penis etched in stone pointing the way to a brothel. Did you try to pull it out to see if you were the chosen one, a la King Arthur? It didn't work for me.
HD: Hmm. I just took photos, actually. But now I'm on the lookout for similar signs at ancient sites. When I went to Ephesus, the "this way to the brothel" sign was an etching of a foot next to a "portrait" of a woman. I was disappointed, to tell you the truth. Too classy.
PCN: It doesn't even make sense. A penis sign is much clearer. Now, you have a reputation for writing dangerous females. What qualities do you share with your femmes fatale? Don't be shy–I know about your krav maga and karate! How are you different from the ladies you write about?
HD: I have two brothers and we grew up taking karate classes together. Since then I've studied krav maga and dabbled in other martial arts. This is something I have to be careful about when I write: most people don't know how to break out of a chokehold. In The Damage Done, Lily's had a very rough past, and she and her sister — the person she's searching for in the book — have had some violent clashes. When I played them out in my mind, I had to forget what I would do in a fight, and think of how a normal person who hadn't trained for years in a dojo would react.
There are things we share. Lily and I love old movies and travel — she's even a travel writer, though a much more exciting, globetrotting one that I ever was. We also have the same taste in clothes. If we met in some parallel universe, we'd want to raid each other's closets for the vintage finds.
PCN: Your next novel features Lily in the aftermath of events that occurred in Damage Done. Will she be a series character? Was that always your intention?
HD: When I was writing The Damage Done, I had vague ideas about writing two other books with Lily. She's someone who's constructed this very glamorous identity for herself, and she keeps a lot hidden because she's ashamed of her past and her family problems, which run the gamut from mental illness to alcohol and drug abuse. That identity unravels in The Damage Done, and I wanted to explore where she goes from there. I was absolutely thrilled that my Forge editor wanted to do a two-book deal, because it gave me permission to follow this hazy yet powerful impulse.
PCN: What are your plans for pub day?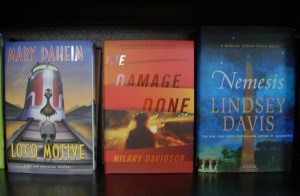 HD: I was going to hunt down a copy of The Damage Done at a bookstore and take pictures, but I've already embarrassed myself by doing that at the Barnes & Noble in Union Square on Friday night. On pub day, I'll be having a party at Partners & Crime in Greenwich Village with two other authors, Joelle Charbonneau and Joshua Corin. Aside from that, I will be working because the truth is, I am a nerd.
PCN: Nerds rule! Thanks so much, Hilary, for chatting with us on the eve of your big day. I wish you a huge launch and magnificent book tour.
Fellow nerds, mobilize and support this book! Go see Hilary on tour by checking details here.
Now, for giveaway rules. One reader will be randomly selected to receive a copy of The Damage Done that Hilary will sign and personalize. To enter:
be e-mail subscriber or Twitter follower (new subscribers get 1 entry, current followers automatically get 2)
leave a comment about something you fixed that everyone thought had been irreparably damaged
have U.S./Canada address
Giveaway ends next Monday, October 4, 5 p.m. PST. The winner will be randomly chosen via Random.org and announced here and on Twitter. He/she will have 48 hours to claim the prize before an alternate name is chosen.