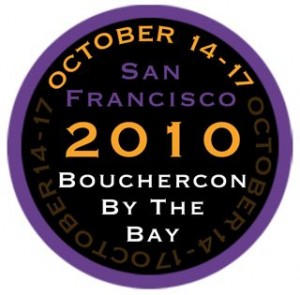 It's a gray cool Sunday in Los Angeles as I recover from my very first Bouchercon. For those who aren't familiar with it, it's an annual mystery convention for authors and fans that's criminally fun. This year, it was held in San Francisco and impeccably chaired by Rae Helmsworth. I don't know how she did it—she looked fantastic and calm every time I saw her while I felt like nine miles of rough road just running around to different panels and parties. Not that I'm complaining. If I had any more fun, my face would crack from laughing.
I taped some of the panels and will be posting highlight clips later this week. Check back for videos of authors including Lee Child, David Baldacci, Denise Mina, Laurie R. King, and Michael Connelly.
Meanwhile, I wanted to post some of my own highlights—the people I got to meet and/or spend time with:
My friend Lauren aka LolosLetters, who fought off at least two would-be muggers with an Elite Uniball pen on her way to the 'con
Author Hilary Davidson, who is gorgeous, funny, smart, talented, nice and impeccably dressed. Come on! Leave some for the rest of us!
My friend Christine from Tennessee, who is nicer than I can ever hope to be
Authors Brett Battles and Rob Gregory Browne, two good men who can definitely handle the truth
Author Martha Flynn, who shared an incredible personal story with me
Publicist Dana Kaye, who is a rock star
Mulholland Books marketing director Miriam Parker, who is smart and energetic enough to run the country
Author Reed Farrel Coleman, who won't be suing me for defamation
Shamus-Award-winning author Brad Parks, who, uh…no comment
Author Stephen Blackmoore and his bewitching wife Carrie, who offered me late-night cupcakes
My thieving roommate, who absconded with every book and cookie that wasn't tied down, and my roommie in absentia, who helped make it all possible
I regret not having a chance to spend more time with superstar blogger Jen Forbus, who literally took my hand and guided me to the right places; Elizabeth Duncan in her lavender disco pants; birthday girl Juliet Blackwell, with whom I never got to consume sauerkraut; and Sophie Littlefield, who was busy winning awards (she won the Best First Novel Anthony Award for A Bad Day for Sorry).
Besides all the fun, I take away an overwhelming sense of gratefulness for the generosity of old and new friends, and the kindness of people who don't even know me beyond a Twitter handle. In a community built around crime fiction, I found nothing but lightness and laughter.