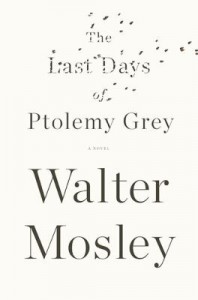 Ptolemy Grey is a 91-year-old man living in a cluttered, squalid Los Angeles apartment, mostly forgotten by the world while forgetting his own past due to dementia. One day, Robyn, a 17-year-old orphan and family friend, comes over and starts cleaning up, sorting through the detritus and restoring order.  She also takes him to a doctor who's looking for test subjects for an experimental drug treating dementia. The "Devil's medicine" might kill Ptolemy but it might also recover his memory before he dies. Figuring he has lived long enough, Ptolemy trades whatever days he has left for the chance to remember what's important to him and get his affairs in order. Once his memory returns, he realizes that includes seeking retribution for the murder of a family member.
Though it takes place in a brutal environment where people get gunned down and Ptolemy rarely leaves his apartment for fear of getting mugged, the novel is more a poignant examination of mortality and how one man is determined to face his end with dignity. Mosley is masterful in getting readers inside Ptolemy's head, as jumbled as it is at first. Then, as his mind reawakens, we take a journey both painful and sweet through the landmarks of Ptolemy's life, watching as he decides to take action to right some wrongs, to finally rid himself of regret about things he never did long ago.
Mosley also manages to slip in subtle statements about our current war, how news coverage confuses Ptolemy because he can't figure out who the enemy is when he at least knew he was fighting Hitler as a soldier during WWII. Sometimes the outside world makes less sense than what's going on in the old man's head.
But the novel isn't political. It's a meditation on different kinds of love and how it can be found in unexpected places. Through Robyn, Ptolemy is able to find his way back to himself just as he's ready to let go.
Nerd verdict: Bittersweet Days
Buy The Last Days of Ptolemy Grey from Amazon
| B&N| Powell's| IndieBound