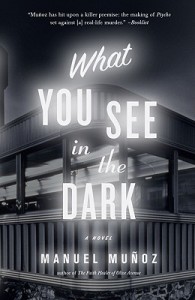 You know this book is unusual when it begins by drawing you in with a second person narrative. Right away, you're in Bakersfield, CA in 1959 as the tragic love affair between locals Teresa and Dan unfolds, intertwined with a fictional account of Janet Leigh (called only the Actress) and Alfred Hitchcock (the Director) coming to town to scout locations, including the perfect Bates motel, for Psycho. Through these and other characters, you explore what it was like to have dreams in a small town, to have them turn out differently than planned, or to know you've missed your chance at fulfilling your dreams altogether.
Debut novelist Manuel Muñoz's voice, which switches to third person for most of the book, is an atmospheric, nostalgic one. I normally don't care for a lot of descriptive prose but his evocations of another time are so hypnotic that I didn't mind. Witness the way he sets up the following scene so you can watch Teresa, a Mexican girl abandoned by her mother, and Dan, the most coveted boy in town, as they have lunch:
They were eating in the café located on one of the choice corners on a better stretch of Union Avenue, the café that still had the plate-glass windows all the way down to the sidewalk…You could see the entire booth through those windows: the table, the red vinyl, their dishes, the waitress's white shoes when she came by to check on them, how the girl crossed her feet and rocked them nervously. She was not dressed as crisply as he was. Even if her clothes looked clean and pressed, you could tell right off that the day she began wearing nice things around town was the day the two of them had done more than talk and have lunch.
And with that, the author has turned you into a voyeur and town gossip.
Teresa and Dan's story—and that of his mother, Arlene—is rife with loneliness and hope, with observations both subtle and heartbreaking. Muñoz also pulls off getting inside Janet Leigh's head as she struggles with self-doubt while preparing for what would turn out to be her iconic role. The author writes in meticulous detail about how the famous shower scene was shot, how exacting Hitchcock was, and how Leigh tried to bring sympathetic dimensions to a character who was a thief and adulterer. The result is a mesmerizing combination of behind-the-scenes movie lore and noirish mystery.
But while the Actress only has to deal with fake blood, Teresa and Dan's relationship erupts in real violence. Muñoz provides some details of the crime but doesn't give a definitive account of what goes down, asking you to speculate on events as the locals do. It's different from mystery novels that end with a "here's what happened" scene but is effective nonetheless, because Muñoz wants you to use your imagination to fill in what you think you saw in the dark.
Nerd verdict: Hypnotic, noirish Dark