OK, hands up—how many of you shouted profanities and shook your fists at the TV when The Killing finale ended last night? If you haven't seen it, may I divert your attention to a variety of other posts on my site while I discuss SPOILERS with viewers who might have some strong words about last night's ep?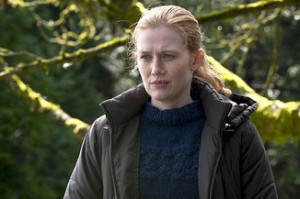 I'm conflicted about the conclusion without a resolution to Rosie's murder. On the one hand, it ensures my interest in season two. On the other, Twin Peaks pulled the same stunt twenty years ago with Laura Palmer's murder and my interest waned fast in season two when I felt producers were stringing me along. Then again, I kinda admire executive producer Veena Sud for taking such a big risk with the cliffhanger, especially since the show had not been renewed at the time the finale was shot. But while I can intellectually appreciate what she did, I wanted to be emotionally satisfied, too. Is that too much to ask?
What did you think when you found out Holder had falsified evidence? Whose car did he get into? Mr. PCN said it had to be Mayor Adams's because he's the only person who had something to gain by Richmond going down. But I'm not convinced because that's too obvious a suspect. I keep looking for someone we've never been suspicious of and at this point I can only come up with Mitch. She'd be the craziest twist. Who would suspect the grieving mother? Michelle Forbes usually plays tough women so there might be more to her character than we've seen.
What did you think? Click here for Sud's comments on the season finale and her plans for next season.
Photo: AMC