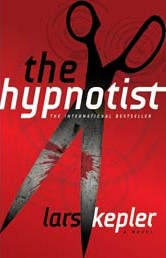 Lars Kepler's The Hypnotist is already a smash in Sweden and other Scandinavian countries since its release there in 2009. It hits our shores this week with strong buzz and that dreaded tag I refuse to use: the NSL. You know, the next author who's like that guy who wrote the Lisbeth Salander novels. It's a lazy shorthand that undermines an original and exciting novel that can stand perfectly well on its own merits, thanks very much.
The novel doesn't bother with any plodding exposition; its very first line is "Like fire, just like fire," as a boy—the sole survivor (barely) and witness to the slaughter of his family—describes under hypnosis what he saw. What he reveals is even more disturbing than the carnage left at the scene.
The session also opens a Pandora's box for the hypnotist, Erik Maria Bark, who had sworn never to use hypnosis again after his practice led to tragic events ten years earlier. When news gets out that Bark had hypnotized the boy, Bark and his family are suddenly in grave danger. It's up to Detective Joona Linna, who is always right, to protect the Barks and solve two gruesome cases that might be related.
Lars Kepler is actually a nom de plume for married couple Alexander and Alexandra Ahndoril, self-admitted movie lovers who have said they wanted to write a cinematic novel. They succeeded, constructing a hard R-rated story (for extreme violence) with nerve-racking scenes that make you squirm and want to cover your eyes. Yes, I actually yelled "Don't go down there!" at my Nook. Read this scene in which a retired detective and his daughter—the hypnotist's wife—are searching for clues in the dark basement of the house where the massacre occurred and tell me it doesn't unnerve you:
A tapping noise comes from the ceiling, and Simone looks over at the stairs and then at her father. He doesn't seem to hear the sound. He walks slowly toward a door at the far end of the room. Simone bumps into a rocking horse. Kennet opens the door and glances into a utility room containing a battered washing machine and dryer and an old-fashioned wringer. Next to a geothermal pump, a grubby curtain hangs in front of a large cupboard.

"Nobody here," he says, turning to Simone.

She looks at him, seeing the grubby curtain behind him at the same time. It is completely motionless yet at the same time alive.

"Simone?"

There is a damp mark on the fabric, a small oval, as if made by a mouth…

It seems to Simone that the damp oval suddenly caves inward. "Dad," she whispers.
There is no shame in admitting you might need Depends after reading that. I'll wait while you pull it on.
The novel's other strong point is its twisty, fast-paced plot. It's just one WTF thing after another, leaving no chance for either characters or readers to relax. I did get frustrated with how Erik and Simone got so stressed, they couldn't even communicate with each other, sometimes causing hurtful actions to come out of simple misunderstandings. But Detective Joona Linna is an amusing lead. He often gloats about how he's never wrong but instead of coming across as arrogant, he instills confidence that's badly needed when situations take really nasty turns.
Nerd verdict: Disturbing, suspenseful and thrilling Hypnotist
To read the first thirteen chapters, go here. Seriously, leave the lights on and have a change of undies.