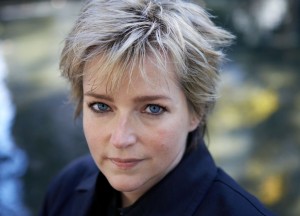 Though Karin Slaughter's just released Fallen is her third novel combining characters from her Grant County and Atlanta series, it was the first of her books I read. After finishing it, I immediately read its predecessor Broken and did loads of Internet research to find out more about Special Agent Will Trent with the Georgia Bureau of Investigation, his partner Faith Mitchell, and Dr. Sara Linton, who often gets involved with them professionally and maybe personally where Will is concerned. I was especially drawn to Will, an authoritative figure who's both competent and lost, older than his years and yet childlike in so many ways.
I then asked Karin to share some things about her characters that we don't know, details she may have imagined for them but haven't put in her books for whatever reason. She divulged the following:
I'm not one for revealing secrets before their time, but I can tell y'all something about Will Trent that's revealed in the book I'm working on now, Criminal (out in 2012): Will is a neat freak. Now, I know this is hinted at early on, but he's really, really painfully neat. Since he grew up in state care, he only had a finite amount of space allotted to him, and so he's very conscious of putting everything in its place and not throwing stuff around that might get in another person's space.

He also likes a clean bathroom because he shared a communal bathroom for the first eighteen years of his life. This might be a bit of fantasy and I'm aware that I am a woman writing a male character, but it's my book so I made Will every woman's dream: a good bathroom sharer. That being said, one reason Sara became a doctor is so she can always afford a house with two bathrooms and never has to share.  Which is a good thing, because Sara is somewhat of a pig. Clothes are strewn all over her bathroom. At one point, Will says it looks like it's been searched by a crack addict looking for money.

I've never given Faith's bathroom much thought, though it does show up in Fallen, my current book. She hides something monumental in her medicine cabinet. I won't give that away, but I'll tell you something about Faith that might be clear by now: She's awful with men. She has what I think of as a woman cop's problem: she only wants fixer-uppers, and then when she gets them and realizes they're a mess, she gets annoyed that they can't take care of themselves. Faith looks at men through two lenses: as a mother and as a bully. In Fallen, seeing how she deals with her son and her brother, you get a really good look into her psyche. Faith would be the first to admit it's not a pretty picture.

So, those are the big secrets I can reveal. I have to hold some back because it's the secrets that make writing about these characters so much fun. The slow reveal of past dramas and dark mysteries is as integral to the plot as the whodunit. And you never want a writer to be bored with her characters. What I love about Will, Sara, Faith, and Amanda—in Criminal especially, which takes place in 1975 when Amanda first became a cop—is showing you all these new and interesting things about them.  So, stay tuned!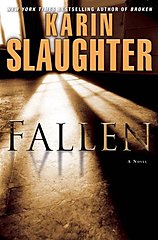 For more deep dark revelations, check out Fallen, a tense, brutal thriller that starts with Faith coming home to find her mother missing, a bloody handprint on the door, and blood all over her kitchen floor. Skeletons are dragged out of several closets, including the terrible truth behind Will's scars.
You can win one of two copies of the book by leaving a comment telling me about something unusual you keep in your bathroom. Giveaway ends next Wednesday, June 29, 5 p.m. PST and is limited to US/Canada residents. Winners will be randomly chosen and given 48 hours to claim the books.
Many thanks to Karin for sharing some insights with us. I'd like to conclude by saying I once had a platonic male roommate who was much neater than I, who kept our shared bathroom clean enough to do surgery in and folded his clothes like a Gap display, so Will's neat-freakiness definitely exists in the real world! (To read Criminal's opening paragraph, click here.)
Author photo: Alison Rosa