I'm not a huge royals watcher but it's funny how British princes keep following me around whenever they make their first official visits to the U.S. after marrying their lovely young wives. As you and every hermit in the world know, William and Kate, aka the Duke and Duchess of Cambridge, stormed L.A. this past weekend, visiting kids in Skid Row and hobnobbing with movie stars at a BAFTA event. I pretty much stayed indoors since I like crowds and gnarly traffic as much as I love getting acupuncture in my eyeballs. But this event had me reminiscing about Will's parents' first official U.S. tour back in 1985.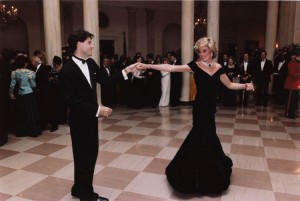 I was living right outside D.C. then so it wasn't surprising that Charles and Diana would be in my vicinity because, you know, the White House was there. They attended the dinner where the princess famously danced with John Travolta. What startled me was when, a couple days later, they came to the very mall where I worked after school and in the summers while I was in college. Their purpose? To promote a British clothing line at JC Penney. The mall was so close to my house that all my parents had to do was step outside onto their front lawn to see the motorcade pass by.
Twenty-six years later, though I'm now living on the opposite coast, I was amused when I heard that this generation's royal couple would once again visit my city on their first tour together. Who needs stalking when they just come to you? I considered standing on the street somewhere along Will and Kate's itinerary so I could wave and bring it full circle. But then my crowd-phobic self said, "Are you nuts?? Do you want to get stomped by the lady who drove all the way from Temecula wearing a hat with a papier maché sculpture of the royal couple on top?"
So I stayed home and critiqued the fashion instead, specifically the outfits that showed up at the BAFTA "42 Brits to Watch" event on Saturday. (Oddly enough, in all the media coverage this weekend, there were no mentions of who those 42 Brits were; you can see a list here that was released earlier this month).
Not surprisingly, the duchess shined. It was brutally hot here but she looked breezy, classy and most importantly, comfortable. That dreamy lavender Alexander McQueen gown designed by Sarah Burton? I would totally wear that to a black-tie occasion because you could actually eat in that thing and not look pregnant. Duchess Catherine looked like she just threw it on in the car over to the Belasco Theatre (she probably did, considering their tight schedule) instead of spending hours to squeeze into it. Not all of the celebs who attended the BAFTA event fared as well. Check out my slideshow below for my fashion roundup.
[cincopa AIOAxrKQYuwt]