After ten weeks of competition, I was rooting for Damian to win this thing, which would get him a seven-episode arc on Glee. He's the most likable, the underdog everyone roots for, and producers Ryan Murphy and Ian Brennan already had the potentially funny idea of bringing him on as an exchange student who confuses the already befuddled Brittany with his thick Irish brogue. The other three contenders—Samuel, Lindsay, and Alex—all have their strengths but they also rubbed me the wrong way at times.
Samuel has one facial expression—an intense stare—and never mentioned his religion until he found out Murphy was interested in writing a Christian character. Suddenly, he's a super devout guy, peppering his conversations with "God" and "Jesus."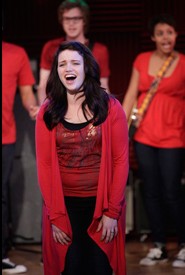 Lindsay, who undeniably has an amazing voice and great camera presence, is too musical theater. She was perky until she was told she came across fake and then she was crying all the time to show she can be vulnerable. Drama! She's too much like Rachel and one is enough.
Alex, with the biggest voice of them all, behaves like a diva who sometimes thought he was better than everyone else, going so far as to say he had to underperform one week to give someone else a chance to shine. Puh-lease.
Yes, they were probably edited a certain way and we can't trust everything we see, even in "reality" shows, but Damian went through the same editing process and never made a false note, never misbehaved, never said a mean thing about anyone.
So, it had to be him, with the Irish accent and adorable face and positive attitude and crooner's voice. I was surprised at how tense I was right before the winner was announced. My future Tuesday-night viewing pleasure was at stake! Thankfully Murphy didn't drag it out (take note, American Idol).
*SPOILERS*
Alex was the first of the top four to be told he didn't win. Then Lindsay. So it came down to Damian and Samuel. When Murphy told Samuel he was the winner, I shouted "Wrongness!" at the TV. Damian stepped up and said Samuel deserved it, showing grace in a moment that must have been devastating for him. That's why it was so gratifying to hear Murphy say that Damian won a seven-ep arc on the show, too! His reaction was the kind that underdogs have at the end of sports movies when they score a last-minute touchdown or an impossible goal. I'm excited that those who haven't been watching The Glee Project—judging by the ratings, I'd say that's a lot of people—will get to witness Damian's charm on the mother-ship show. I predict he'll become a fan favorite and get to stay longer than seven weeks.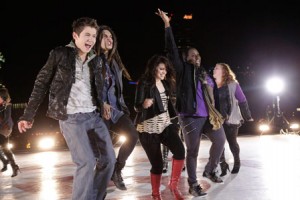 But wait, Murphy wasn't done. He decided to give Lindsay and Alex two episodes each. So, everybody wins! Some viewers might gripe at this but I thought it was a nice twist. These kids have real talent and have worked hard the past ten weeks, so what's wrong with letting them know that their dreams might change shape but can still come true? Why must gripping television always include soul-crushing disappointment? I say let them continue to laugh, sing and dance, and good on Murphy for showing that not everyone in Hollywood is heartless.
UPDATES: Damian talks about his win here and Lindsay books a job as Snow White.
Photos: Oxygen