If you're not into politics, don't let it deter you from seeing The Ides of March (out October 7), based on Beau Willimon's play Farragut North. Despite its setting, it's not really about politics. It's more about a young idealistic man whose beliefs are tested in a cutthroat world, in effect asking the viewer, What would you do and how long would you last?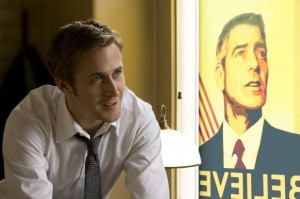 Ryan Gosling plays Stephen Myers, a hotshot campaign secretary for presidential candidate Gov. Mike Morris (George Clooney, who also directed and co-wrote with Grant Heslov and Willimon). Myers is very good at what he does, making the governor seem like America's last hope for salvation. But it's not just spin. He can only sell it if he believes it, and he believes in Morris wholeheartedly. The political game being what it is, however, Myers soon encounters complications with an intern (Even Rachel Wood), the campaign manager of a rival candidate (Paul Giamatti), his own campaign manager (Philip Seymour Hoffman), an aggressive reporter (Marisa Tomei), and eventually Morris. We see Myers's struggle to hang on to his morals and the question isn't whether he has what it takes to rise in the ranks, it's whether or not we want him to.
Gosling continues his hot streak after Crazy Stupid Love and Drive with another riveting performance. You can see his gradual transformation from the bright-eyed Myers at the beginning of the movie to the one at the end, whose eyes are noticeably harder. Gosling is one of the few young actors who can go toe to toe with Clooney in a pivotal scene and make the audience wonder who would come out on top. And while movie stars can sometimes bring too much baggage to a role, Clooney's charm adds to the governor's allure and keeps us guessing about whether he's as perfect as he seems.
The supporting cast members turn in solid performances  but that's no surprise from Giamatti, Tomei, Hoffman, and Jeffrey Wright. It helps that they have a sharp script to work with. Wood is too affected to measure up to everyone else, but even that doesn't detract much from Clooney's smart, tense drama.
Nerd verdict: Ides should prepare for March to the Oscars
Photos: Saeed Adyani