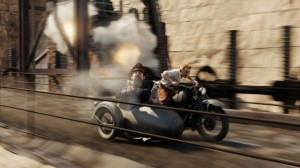 I was thrilled to hear over the weekend that most of the first reviews for The Adventures of Tintin: The Secrets of Unicorn are not only positive, but overwhelmingly so! Many of you know the Tintin books are the first titles I remember reading on my own as a kid and absolutely loving. Despite the fact this movie was directed by Steven Spielberg and produced by Peter Jackson, I was concerned it wouldn't deliver the sense of wonder I felt experiencing Hergé's work. The trailers didn't quite win me over, either.
But the reviews coming in from Europe, where the movie will open later this month (December 21 in the U.S.—argghhh!) are comparing it to the Indiana Jones movies, using descriptors like "visually splendid,""gorgeous," "stunning," "lavish," and "breathless." The Hollywood Reporter says it's "a good ol' fashioned adventure flick that harkens back to [Spielberg]'s action-packed, tongue-in-cheek swashbucklers of the 1980s." It's almost enough to make me hop on a plane to France so I can see it two months before its stateside release.
If interested, you can read full reviews from The Sun (UK), The Hollywood Reporter, and HitFix.
Anyone else as excited as I am?