Writer/director Alexander Payne has a thing for making films about people who aren't readily likable, the type we laugh at, not with. Ruthlessly ambitious Tracy Flick from Election, pregnant junkie Ruth from Citizen Ruth, and depressed Miles and philandering Jack from Sideways aren't the kind of company most of us would want to keep in real life. But while his latest protagonist from The Descendants—an adaptation of Kaui Hart Hemmings's novel—is flawed in many ways, Matt King is someone audiences can root for. The fact that he's portrayed by George Clooney has a lot to do with that, but not for the obvious reasons.
Matt is a lawyer living in Hawaii whose wife, Elizabeth, slips into a coma after incurring head trauma in a boating accident. He's suddenly faced with raising his two daughters (Shailene Woodley and Amarie Miller), something he's rather helpless about, having been the "back-up parent." Worse, he finds out from his older girl, Alex, that his wife had been having an affair. He takes his kids and Alex's doofus friend (Nick Krause) on a trip to track down Elizabeth's lover. In the midst of all this, he also has to decide whether to sell to developers the acres of untouched land that have been in his family for generations, a deal that would make him and his cousins phenomenally rich but may not be best for the island.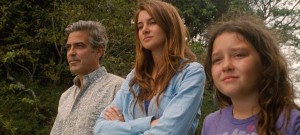 Audiences have never seen Clooney like this—he's an ineffective man. There is nothing slick or sly about him. Yes, he's successful professionally but out of his depth in his personal life. He doesn't know how to communicate with his daughters, he can't seem to even get angry at his wife for cheating on him, he takes verbal abuse from his father-in-law (Robert Forster), who irrationally blames Matt for Elizabeth being in a coma (Matt wasn't even there when the accident occurred), and when he does come face to face with her boyfriend, he doesn't confront him in the way we'd expect, though the scene is much more affecting for it. Clooney internalizes Matt's struggles, and there are times when I wanted him to explode, to express his anger and pain, but that would have been predictable and Clooney's performance is anything but. Matt may suffer quietly, but he's not a doormat, and in the end he shows that perhaps he has more backbone and dignity than anyone else.
The supporting cast is superb, even Matthew Lillard, aka Shaggy from the Scooby-Doo movies, as Elizabeth's lover. His pivotal scene with Clooney shows more depth than I've ever seen in his previous work. Judy Greer also has a memorable scene when her character—don't want to spoil who she plays—behaves in a completely surprising way.
The big discovery, though, is nineteen-year-old Woodley (The Secret Life of the American Teenager). When we first meet Alex, I thought she'd be the kind of sullen, disrespectful teenager I have no patience for. But as the movie progresses, Alex slowly becomes not only someone who takes her father's side, but a substitute mother to her ten-year-old sister. Woodley's performance, combined with her striking looks and husky voice, signals a major star in the making.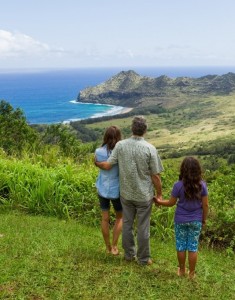 Payne said something in the post-screening Q&A that best sums up what he did with this movie. He quoted Billy Wilder: "Say 2+2, never say 4." (Clooney interjected, "Some [American films] say 5.") Descendants is as striking for what Payne chose to omit as for what he included. When he said he didn't show certain things because the audience already knows what happened, he's absolutely right. I so appreciated his decision because obviousness is a pet peeve of mine in narrative fiction. How often does a director trust viewers to use their imagination to fill in the blanks?
What Payne didn't leave out was humor, making us chuckle even while the characters squirm in uncomfortable situations. He also used entirely pre-existing Hawaiian music for the soundtrack because he wanted to "give a gift to Hawaii." In the process, he also created one for the rest of us.
Nerd verdict: Transcendent Descendants
Photos: Fox Searchlight Pictures