I originally reviewed this for Shelf Awareness for Readers, and am reprinting it here with permission.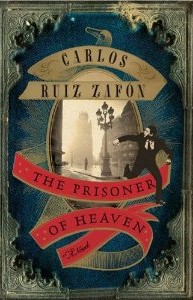 Fans of Carlos Ruiz Zafón's Cemetery of Forgotten Books series finally have another installment to enjoy with The Prisoner of Heaven, which begins right before Christmas in 1957 Barcelona. A mysterious man with missing fingers comes into Sempere & Sons, the bookstore where Daniel (The Shadow of the Wind's protagonist) works, and buys an expensive edition of The Count of Monte Cristo. He leaves it at the store with a cryptic message inside for Fermín, Daniel's best friend and coworker. When Daniel presses for the meaning of the inscription, Fermín tells him the awful truth, including the real reason Daniel's mother died.
Fermín's sense of humor helps readers through some of the more horrific incidents when he talks about his prison stint in 1939-1940, when he met the writer David Martín (from The Angel's Game). Daniel's mother, Isabella, also makes an impression as David's friend, who tirelessly lobbies to get him out.
Part of the intrigue of these three books is to see how all the characters and pieces fit together (even if some details don't match what was disclosed at the end of Game), and as a note says at the beginning of this novel, they can be read in any order.
The Prisoner of Heaven doesn't quite capture the magic of Shadow, but is more engrossing than Game. Like them, this is a tale about—and for—people who are passionate about books and the art of writing. It contains Zafón's usual wit and eye for period detail, and ends with a cliffhanger indicating that Daniel's journey down a dark path is just beginning.
Nerd verdict: Engrossing Heaven, if a bit in Shadow's shadow
Can't get enough of the Cemetery of Forgotten Books? You can read about its origins in a free short story by Zafón that HarperCollins has made available here.
Buy Prisoner now from Amazon| Buy it from an indie bookstore
This blog will be quiet for about a week, as I'll be out of town for a family emergency. I wish you all happy reading until we meet again.