My friend Lauren and I discuss books on a regular basis, and she always has incisive and insightful comments about why she likes or doesn't like something. I'd asked her to be a guest reviewer several times but she kept demurring, saying she doesn't consider herself a reviewer.
Well, last week, I found out she was reading a book I've been meaning to read for a while but just haven't had time. I decided she had to write up something for me about it, so I sent her a form and made her fill it out. And the first Gunpoint Review was born, named because I forced Lauren to do it. You'll see that she went above and beyond the form (hello, I asked for only 5 sentences) and is a natural at it. Leave her comments so maybe I can go easy on the threats next time I make her do one.—PCN
********
by Lauren O'Brien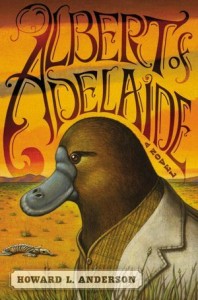 Title:     Albert of Adelaide
Author:  Howard L. Anderson
Length:  223 pages
Genre:   Hmm. Marsupial crime fiction? With a hint of fantasy. And Western. The Wind in the Willows meets Unforgiven. It defies classification.
Synopsis: Albert the platypus has called the Adelaide Zoo home for most of his life. He dreams of escape from the daily monotony and the constant intrusive staring of strangers. But Albert dreams of a particular escape: from the zoo and to "Old Australia," a "rumored land of liberty, promise, and peace," where things haven't changed and life remains as it was when Australia belonged to the animals and men who used to inhabit the bush.
Your thoughts in 5 sentences or fewer: Drunk bandicoots. What more do you really need to know? I picked this book up on a lark as it appealed to my Australian side. I'm so thankful I did, partially because other books I've read about Australian wildlife have rarely included its propensity for clothing and conversation, much less bar fights or gun play, but mostly because what might appear to be a simple story about Albert's hopeful journey to nirvana turns into much more. And sometimes those turns are dark.
It's reminiscent of an old Western joined with a buddy movie, complete with dirty saloons, corrupt lawmen (law wallabies? lawallabies?), betrayal, prejudice, and revenge, along with friendship and honor. I laughed and teared up. Ultimately, this is not a story of Albert's search for Eden, but what he finds and finds out along the way, about himself and others.
One important note: Don't let the idea of anthropomorphism put you off. Yes, the characters are animals, but that could not have been further from my mind while reading. So much so that when a character showed up at one point holding the "paws of two young wallabies," my first reaction was, "Who would cut the paws off baby wallabies?" Then it became clear the character was simply holding the hands of his children. Oops.
Verdict: Read it!