March is supposed to usher in spring, but you couldn't tell from the L.A. weather. This week we've had rainstorms complete with thunder and lightning, which gave me good reason to hole up for days, eat lots of pho, and read. I walked around wearing a blanket like a sweater, and didn't talk to anyone besides Mr. PCN and the UPS man who brought all the books.
Below are the March titles I've read and hope to read this month.
THE FAVORITES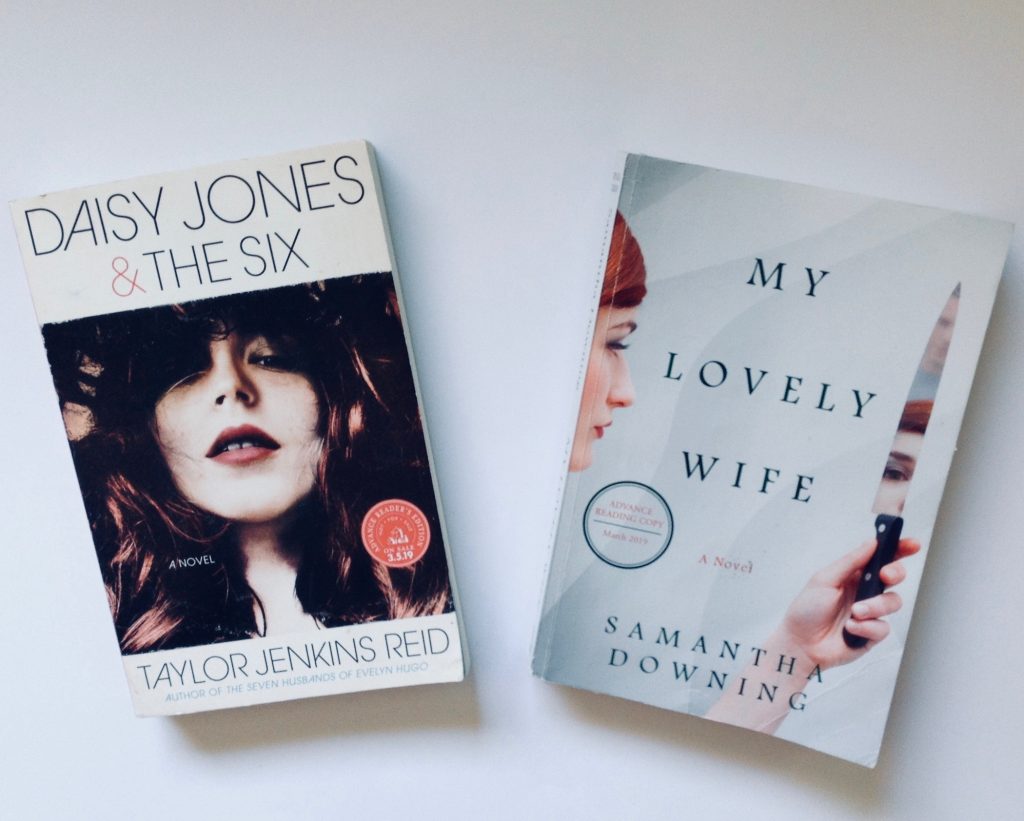 Taylor Jenkins Reid's Daisy Jones and the Six has been featured everywhere, but it deserves all the attention.
In my review for Shelf Awareness, I wrote that this oral history of a fictional '70s rock band and its mysterious breakup "is more than sex, drugs and rock 'n' roll, though there's plenty of that. It cracks open the creative process and shows how much it costs sometimes to make art that resonates." I also mentioned that the characters are "inspiring and tough and messy and heartbreaking. Rock stars—they're just like us."
You don't have to love rock 'n' roll or to have been alive during the '70s to devour this book. You just have to love vivid, incisive writing. I liked it so much I can't wait for the audiobook version, which has a full cast, featuring Jennifer Beals as Daisy and Benjamin Bratt as Billy, lead singer of The Six.
The other outstanding March title is Samantha Downing's My Lovely Wife. The husband and wife in this domestic thriller use murder to spice up their sex life. It's SO messed up, but Downing held me hostage for the one day it took me to rip through this book. In my Shelf Awareness Maximum Shelf review, I wrote, "Millicent is not a character readers will soon forget. She is refreshingly unapologetic; there's no sad backstory to explain or mitigate her behavior. Millicent isn't conflicted about her actions; she revels in them."
THE REST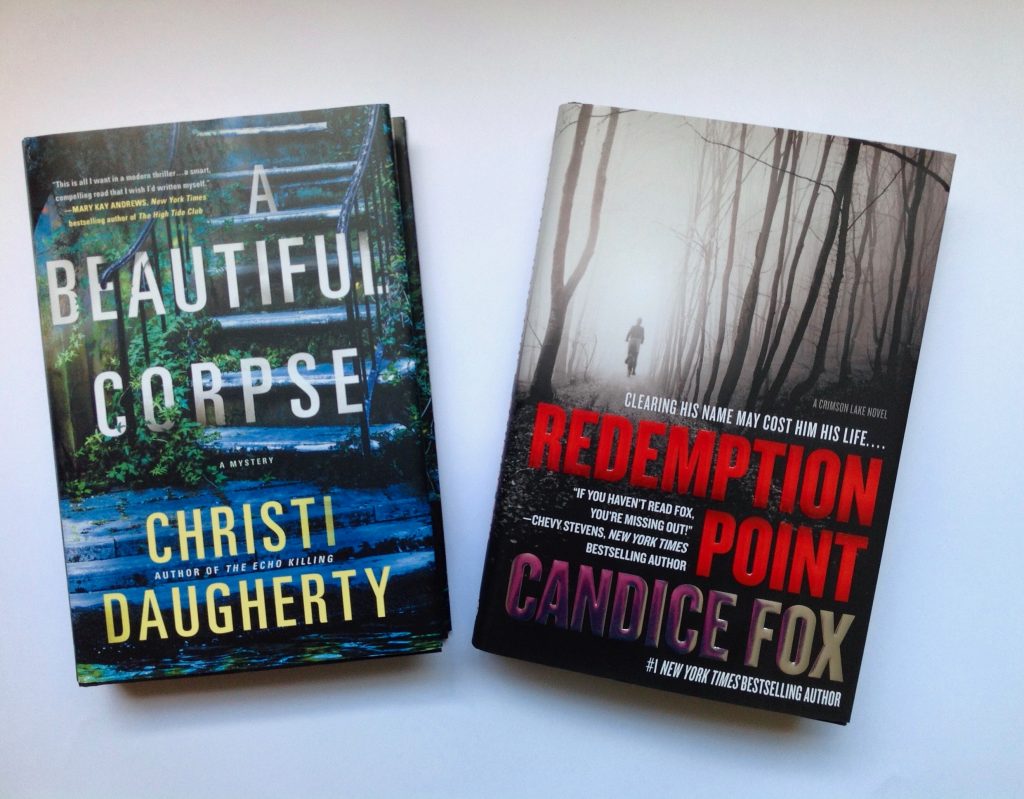 I went blind into Christi Daugherty's A Beautiful Corpse, as I do with most books, and was delighted to find it takes place in Savannah, GA, which I visited for the first time only two months ago. I was all, "Yay! I walked through that area where the dead body is!" Plus, the protag is a news reporter, like me in my former life. I'm not far into the story yet but hope to finish it soon. Even while I'm not reading it, I like staring at that beautiful cover.
Like Daugherty, Candice Fox is a new-to-me author, and she's based in Australia, where Redemption Point is set. Not sure what this is about (see above re: going in blind), but it's book 2 in the Crimson Lake series, and book 1 received strong reviews. Australia is another place I got to visit not too long ago, and I always get an extra kick from reading books with familiar locations.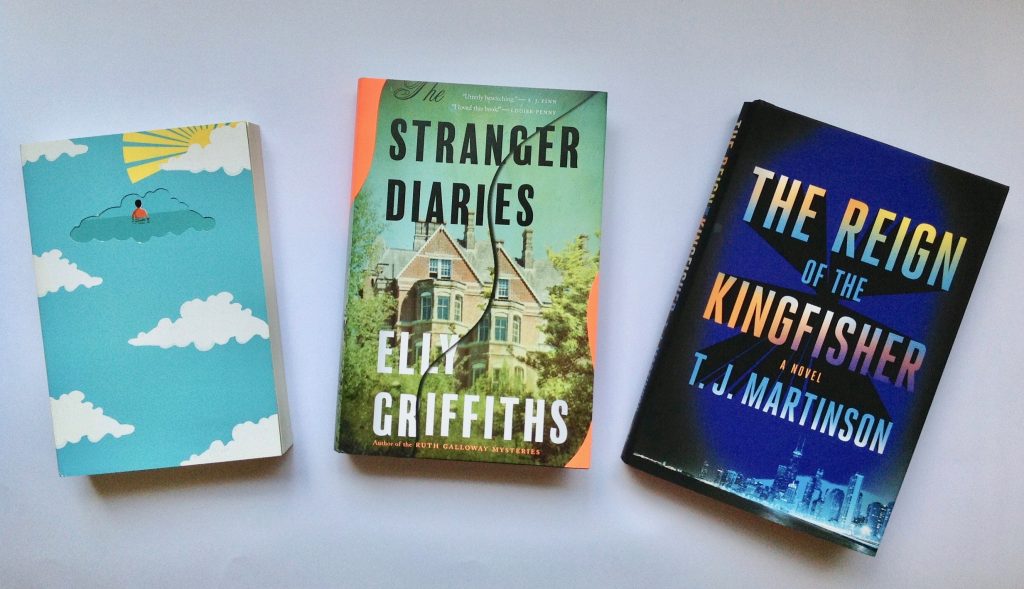 The book on the left is Rajeev Balasubramanyam's Professor Chandra Follows His Bliss, and it's on my nightstand because I like waking up to blue skies. Professor Chandra is a cantankerous man, and books about grumpy folks looking for their happy place are practically about me. I want to dive into that serene cover and follow the story wherever it leads.
I've been meaning to read Elly Griffiths for years, and The Stranger Diaries looks like a great place to start. This standalone is a book about literature, y'all, and I'm a sucker for those. Apparently it also has a haunted house and mysterious diary entries so what's not to like?
The pitch email for T. J. Martinson's The Reign of the Kingfisher mentioned superheroes and journalists and comics and suspense and Emily St. John Mandel calling it stunning so I was like, "YES, PLEASE." I'd be excited for just one or two of those elements, but all together in one place? Can't wait to dig in.
Which March books are you excited about? What are you reading?
PCN is an Amazon affiliate and could earn a small commission if a purchase is made via the links.