I'm still in rehearsals six days a week for the new play, and doing various freelance gigs, so this won't be a full write-up, just a few highlights in case you missed the show (apparently it didn't air in some territories).
I tune in to the SAG Awards, which are less glamorous than the Oscars and not as freewheeling as the Golden Globes, because I get to vote for the winners here. There are 15 categories, and I voted for 7 of the winners, so I was happy about 50% of the results.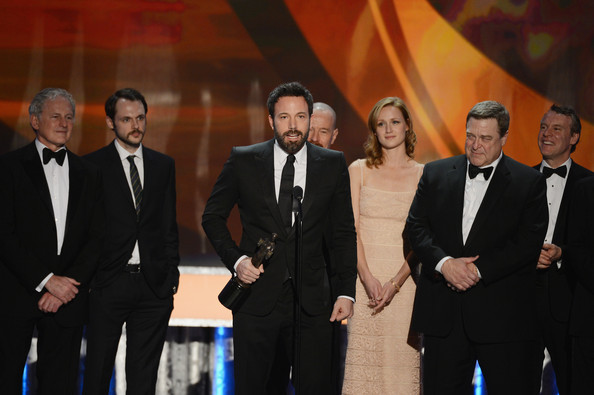 The one I was most excited about was Argo's win for best ensemble in a motion picture. It didn't surprise me because I polled my actor friends and there's a lot of love and respect for that movie. This bodes well for Argo winning best picture at the Oscars next month, which should make Oscar voters look shortsighted for ignoring Ben Affleck.
As I mentioned on Facebook, he is the only director of a best-picture nominee who also starred in it. I don't see Spielberg directing himself as Lincoln or David O. Russell playing bipolar. What Affleck did has a high level of difficulty and he pulled it off with aplomb. The Producers Guild of America likes Argo, too, because it also won the top motion picture prize at that ceremony Saturday night.
Two of my favorite quotes came from acceptance speeches by Tina Fey, who won for best female actor in a comedy series (30 Rock), and Daniel Day-Lewis, best actor in a motion picture (Lincoln). Fey said to Amy Poehler: "I've known you since you were pregnant with Lena Dunham," a continuation of the joke they started at the Globes when Dunham thanked them for getting her through middle school.
Day-Lewis, who got a standing ovation, said: "[I]t occurred to me that it was an actor that killed Abraham Lincoln, and therefore somehow it's only fitting that every now and then, an actor tries to bring him back to life again."
Go here for the full list of winners.
Let's discuss some of the fashion. There were no real standouts for me. Most were ho-hum (too much black) or in the what-the-Freud? category.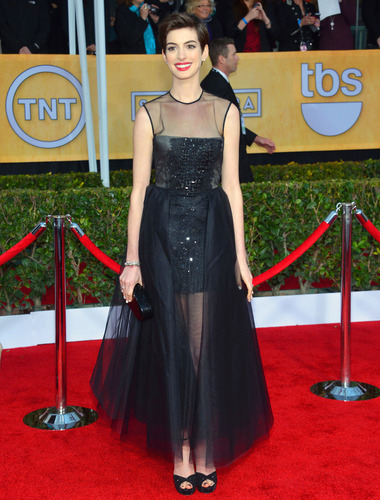 Anne Hathaway usually has impeccable taste but I hate this look, which is reminiscent of Demi Moore's bicycle-shorts-under-a-skirt fiasco from the Oscars in the '80s (click here to see it—if you dare). This style just doesn't make sense to me. If you want to wear a short dress, do it. Don't throw some froufrou around your hips to cover up your legs but not really.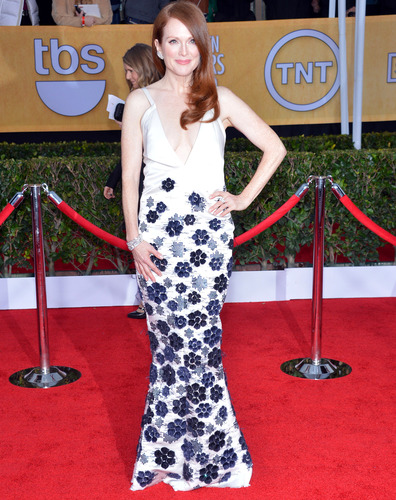 Oh, dear. It's really unfortunate that Julianne Moore, whom I think is amazing, attended a SAG ceremony wearing this.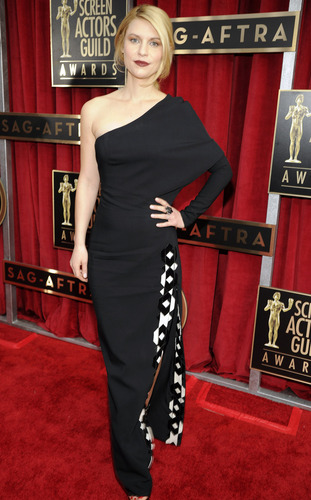 Claire Danes's dress is interesting but makes her look much older. Helen Mirren would rock this.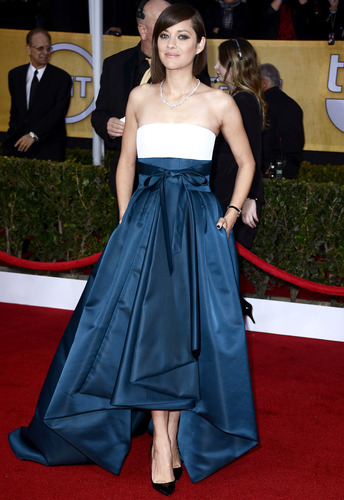 This probably would look like a cheesy prom dress on me and most people, but Marion Cotillard makes it impossibly chic.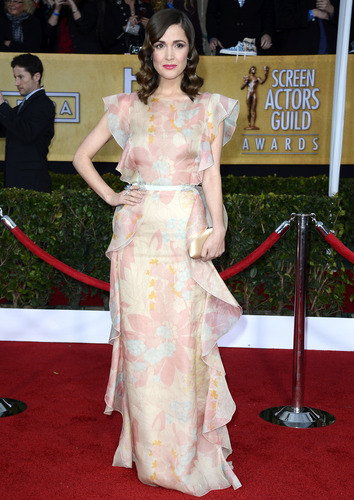 Rose Byrne gets the award for Most Creative Use of Grandma's Bathroom Wallpaper.
I wondered if Jaimie Alexander was wearing her dress backward. Or if she's a fembot who managed to turn her head all the way around.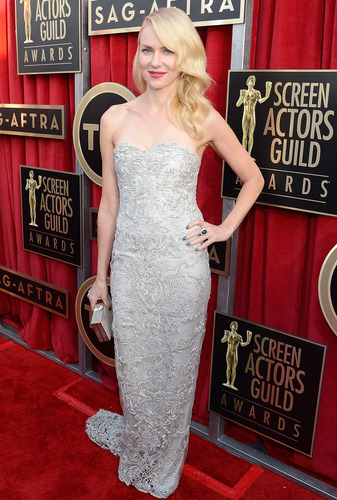 The dress isn't anything special—she's worn this style before—but Naomi Watts gets my vote for Most Consistent when it comes to hair and makeup. She looks flawless every time. And as much as I enjoyed Jennifer Lawrence's performance in Silver Linings Playbook, I'm kind of hoping for an upset by Naomi at the Oscars. Her work in The Impossible is brave, raw, and devastating.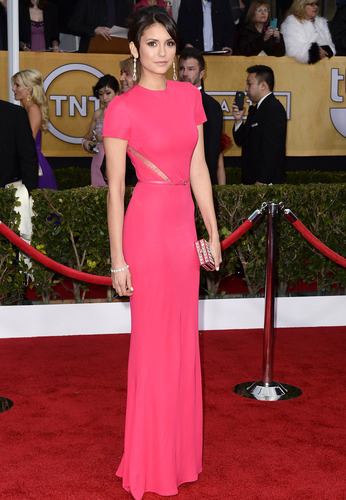 Nina Dobrev wore my favorite gown of the night. The pink is striking without being girlish, and that slash of bare flesh under lace adds unexpected sexiness.
Did you watch? What are your thoughts? Am I the only female alive who doesn't think Bradley Cooper is hot?
Photos: Hathaway, Moore, Danes/WireImage; Cotillard, Byrne, Alexander, Watts, Dobrev, Affleck and Argo cast/Getty Images